Article
Artist Profile: Holly Holden
Holly has travelled the world sharing her unique Spanglish soul-pop. We caught up with her this week to find out more about her music and roots in Cornwall.
Please tell us about yourself and your music
I'm Holly Holden, a singer, songwriter, bass player and front woman of three piece electric trio 'Holly Holden y Su Banda'. We play a latin-influenced, sunny Spanglish pop sound that we have coined 'tropical soul' and we just released our first full length LP 'Green Guava'.
I was born in Hammersmith in West London and moved to Cornwall with my family when I was sixteen. We lived in Polruan, Truro and eventually settled in Veryan, where my parents have been ever since. I started writing my own songs while at university in Bristol where I studied German and Spanish and started gigging regularly in pubs and clubs around the city. My language studies took me to Berlin and Ecuador and since graduating I spent a lot of time travelling and making music in Latin America, that's when I started incorporating Latin influences and Spanish language into my songwriting.
I formed my band – Holly Holden y Su Banda in London in 2015. We released our first EP Tropical Soul in 2017 and have been lucky enough to play at Glastonbury, Greenman, Boomtown and many of the UK's music festivals. We've also toured the UK and Europe supporting folk singer Johnny Flynn, whose band my drummer Dave and I are also members of.
Having lived all over the world, what do you find special about Cornwall
I have been lucky enough to live in lots of different places, from bustling capital cities like Berlin and Mexico City, to small seaside towns in Cuba and Ecuador. And while each of those places has something special and unique, I don't think anywhere compares to the breathtaking beauty of Cornwall. In tropical weather like we've been having this summer, you could easily be in the Caribbean.
Apart from the gorgeous landscape it's the people and community that make Cornwall special. That really struck me moving down from London as a teenager, where I had learnt not to talk to strangers. It made me so happy to know my neighbours and to be greeted by people when I walked down the street. That open, generous quality makes me feel happy and at home and part of a special community.
How did you develop your unique style of 'Spanglish soul-pop'
My time at university in Bristol was really key in my connection with Latin American culture and to the development of my 'Tropical Soul' sound. I only started learning Spanish when I got to Bristol and did two years of intense language lessons at Uni before spending  the six months of my third year in a city called Esmeraldas in coastal Ecuador.
I'd already been writing and performing in bars around Bristol, but the music I was making and listening to was really folky and acoustic. I distinctly remember arriving in Ecuador and my mind exploding when I went to a salsa bar in Quito. I hadn't really been exposed to Latin music before then. The office I was working in in Esmeraldas was also right under the musical centre of the municipio where marimba bands rehearsed all day, and I spent a lot of my time up there taking classes in the marimba and hanging out. I ended up recording some of my songs with the marimba band and I guess that was the start of 'tropical soul'.
After a year living in Berlin post graduation I returned to London and did an MA in Caribbean and Latin American studies. In that year I really focused on ethnomusicology and wrote my dissertation about reggaeton in Cuba and Ecuador. That dissertation research trip was what took me to Cuba for the first time. I had never been in a place that was so musically inspiring and alive, but I also remember feeling incredibly frustrated at being there and being on the outside of the music scene. I didn't want to be writing about the music other people were making, I wanted to make it myself. That year was really informative and valuable in my journey and musical formation but it also convinced me that academia wasn't for me and that I wanted to sing. And that's what I've been doing ever since.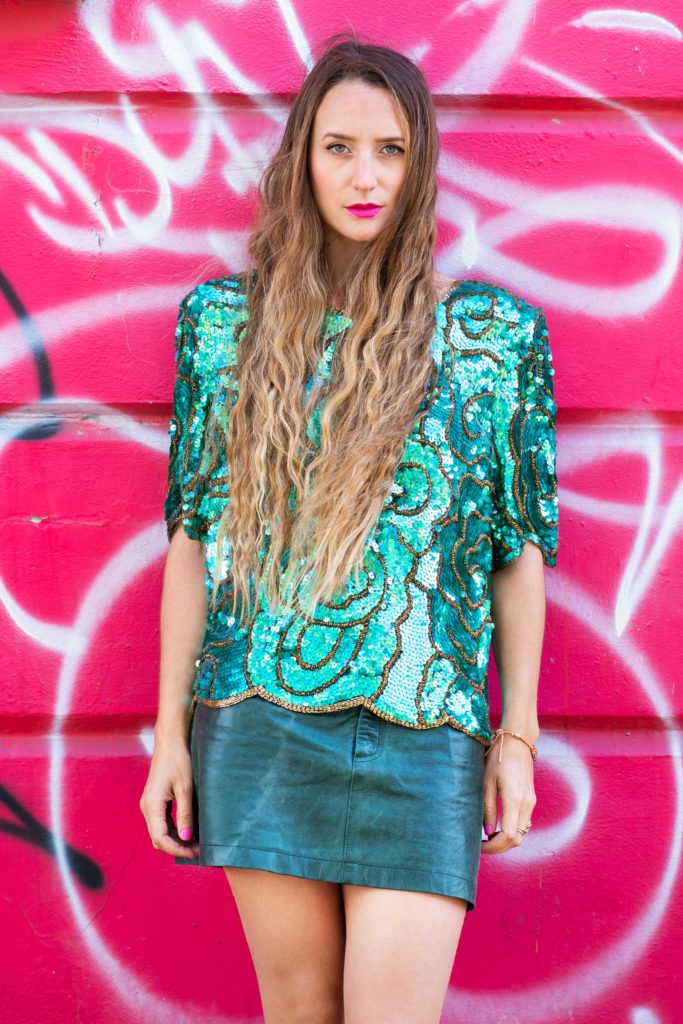 What is your favourite music venue in Cornwall and why?
I am a big fan of beach bar music venues like The Blue Bar at Porthtowan and The Watering Hole in Perranporth. I have great memories of warm summer nights spent watching friends play acoustic gigs in those places, with hair still wet from sea swimming. I think that barefoot, acoustic, surf cafe culture is something you can only find in Cornwall, and it's super cool.
I am also a big fan of Tropical Pressure festival. We played there a few years back and it's way up there in my list of best UK festivals. It's got a friendly, family vibe, an eco ethos and the music programme is right up my street with a big emphasis on Latin America, Africa and the Caribbean.
How do you manage all of the multiple aspects of being an artist? Are you self-managed or do you have a team?
I'm self-managed and always have been. My band has been my team since the beginning and we made all our records completely independently, doing all the production and arrangement ourselves, and funnelling money from live shows back into the band fund recording, mixing and mastering. We've all been juggling other ways of making income to pay rent at the same time, I'm a nursery school teacher, David's a chef.
I'm not sure how many people realise when you tell them you're an independent musician what that actually means in terms of your life. Obviously it all starts with a love of music, writing and performing. But in order to get my music heard I've also had to become an expert in social media marketing, a video editor, graphic designer, tour manager, accountant, web designer, fundraiser. There's a great deal of administration that goes into music making and it can be overwhelming. At times with this latest album release I spent so much time looking at a screen I started wondering if it was all worth it! It makes it more difficult in these times when we can't just go out and play shows. Nothing beats that live show buzz when you play and people dance.
There's been a lot of times that I've wished for a manager, a record label, a team of people to make decisions for me. But in reality I think it's better this way, there's something very special and empowering about doing it all yourself. Every decision comes from me. Green Guava is a totally authentic expression of myself in every capacity. The only people who have helped make this record happen are my fans, who helped fund the production of physical merchandise, CDs and vinyl through a Kickstarter campaign earlier this year.
Have you faced any challenges working in the industry, particularly around gender?
I've lost count of the times that a guy has come up to me after a show and said "I've never seen a woman play the bass before, you're pretty good for a girl". I've also had the same amount of young girls come up and embrace me, and their parents say to them "you can do that when you're older". I sing because it's what I love to do, I never thought about making a political statement, but simply by being a front-woman and putting yourself centre stage, you chip away at peoples limited, patriarchal misconceptions of women in music.
The thing about being a woman in this industry is that being 'female' is always part of your description. Artists of diverse backgrounds and contrasting styles etc are all banded together in a senseless, same-sex category and that reductive tendency has historically set women in music against each other. It encourages you to see other women as competition because you're all fighting for attention within the same limited space.
That is changing now . We've had enough of being 'female' musicians. We've realised how powerful we can be if we work to support each other rather than competing. I am lucky enough to be a member of all-female choirs Deep Throat Choir in London and El Palomar in Mexico City – musical communities which are all about women with different professional, musical and life experiences, sharing, loving and supporting each other.
What advice do you have for up and coming musicians in Cornwall?
When I was an enthusiastic and impatient 18 year old with a couple of songs I went to a music teacher of mine and asked 'How do I make it?'. I naively believed all I needed was to be noticed by the right person and then I would be an overnight success. The truth is that success never comes overnight, and it is up to you to make it happen. My teacher told me to be patient and to play, play, play. The best way to hone your craft is by doing it and learning from your mistakes, from the stage fright and the muck ups. If you want to write good music go out and live as boldly and openly and curiously as you can. Listen and love and then you'll have something to write about.
---
Holly Holden
Holly Holden is a singer, songwriter and bassist from London with a tropical soul. A long-term love affair with Latin America and many years spent music-making in the region have shaped her unique sunny, Spanglish soul-pop sound.
Facebook │ Twitter │ YouTube │ Spotify │ Instagram