Article
Can You See Me: An Immersive Community Exhibition
'Can You See Me' is a collaborative community portrait project. This legacy ACE-funded project offered people a transforming experience to present alternative visions of themselves, whilst contributing to this beautiful exhibition.
Image: Steve Tanner 
The 'Can You See Me' creative team invited groups and individuals that might not otherwise engage with mainstream culture to participate in this project. They were invited to create a pose for their portrait, contribute to the verbatim sound score and be a part of the film.
Melanie "want[ed] all voices to have the opportunity to be heard, so that we can create and curate a rich and diverse installation. This is a strategic snapshot of what it means to call Cornwall home in 2022".
Image: Steve Tanner 
This immersive exhibition, the culmination of 12 months of collaboration and co-creation, is a mixture of sound score, portrait photographs, small 'icons' inspired by the portraits, a short film from choreographed movement and a 2-minute documentary capturing the process.  This is definitely not one to be missed!
The groups involved were:
– Holifield Farm Project, who focuses on opportunities for adults with additional needs.
– Falmouth and Penryn welcome refugee families.
– Trelawny House, Retirement housing
– Penryn ARB, area resource base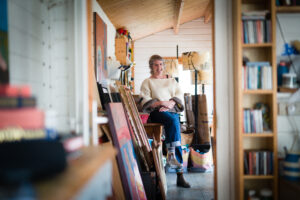 Image: Steve Tanner 
The creative team comprises a visual artist, choreographer, filmmaker, documentary filmmaker and photographer, with Hall for Cornwall as partners.
"True collaboration is a really hard thing to achieve, but I think we have managed it with this project. The team and all the participants gave more of themselves than I could ever have hoped and that care, flexibility and desire to get the best from everyone, is evident in all that has been produced".
– Melanie Young, Artistic Lead.
---
Can You See Me is opening at The Jupiter Gallery, Newlyn, for a week from the 13th of November.  Then moving to Hall for Cornwall from 21st to 24th of November.
There will be two Q&As, one at each venue.
– Q&A at Jupiter, Saturday 19th at 4pm.
– Q&A at HfC Monday 21st at 5pm.
This exhibition is free and welcome to all.