Article
Celebrating Rebecca Mordan and 20 years of Scary Little Girls
Scary Little Girls' Artistic Director Rebecca Mordan is celebrating 20 years at the helm of this community focused and artist led feminist company through the launch of the Mayven festival. A two season extravaganza of comedy, cabaret, festivity and feminism, storytelling and silliness, the Mayven festival celebrates the fact that Scary Little Girls has been going for 20 years and that they are STILL going strong!
The Mayven Festival takes place over a week in July and a week in December, in partnership with Hall for Cornwall. Scary Little Girls will be showcasing the work of over 100 female creatives, in venues across Cornwall including Hall for Cornwall, Minack Theatre, Penlee Theatre.
We caught up with Rebecca as she prepares for the launch of the festival…
Congratulations on Scary Little Girls' 20th birthday! Can you tell us why you developed the company 20 years ago, and why its work is still important now?
Thank you! I can't believe we've got to the grand old age of 20, makes a girl think! I started the good ship scary because I'd had a really fantastic experience of university working for women's rights with an amazing group of feminists, and then got to a very exclusive drama school and basically was bullied for 3 years in a very Me Too style, institutional sexism sort of situation, it was gross. The contrast, and my mum's awesome feminist upbringing of us (she was a Greenham Woman), made me think 'how can I create even a small section of the industry where women and everyone is safe to be their best self?' I noticed pretty soon out of drama school that the roles on offer to women were never as fun, as fulfilling or as plentiful as those around for men, how many of my super talented female friends were out of work, and once you've seen that you can't go back and do nothing. And that's what we are still doing it, cos women are underserved, both in roles and when they look about them at stories, so we try to make sure we have tons of great stories all the time for women to be in and see themselves, in no matter what their background!
What have been the biggest challenges faced in the industry by female artists who work for Scary Little Girls? (and how have you addressed these challenges?)
Honestly, my story was pretty representative of many women in the arts, many of whom of course have had a much worse time. I just got sick of hearing of bullying directors, underpaid artists, shallow roles that under-used brilliant women, so I started trying to work differently and other women very quickly came along to join in. It's still very tough with funding, less than one percent of the government's arts provision currently goes to female organisations, shocking when you think that we are over 50% of the population, so you have to work collectively. We try to partner with progressive organisations, sometimes big ones like regional reps or unis, sometimes communities and grassroots activists, to make work and fundraise in a way that not only supports us and our network but also changes culture and challenges stereotypes. I try to work with the artists we collaborate with, and to keep that pool of artists broad so that the stories we are telling come from lots of different angles, ages, backgrounds and approaches. The work is richer that way and we are stronger together, and I've never felt isolated or alone in my work, something I know a lot of people can feel in the arts; I'm hugely fortunate to be at the centre of a dynamic, passionate, fun-loving hub and that's what we try to share with our audiences.
The festival is called the 'Mayven' festival. What does the name mean?
Oh let me introduce the Mayven! It's a sometimes overlooked stage in a woman's life that my mum's best friend told me about recently i just knew had to share, she comes after Maiden and Mother, and is described by some as containing 'the inherent value and power of midlife'. The Mayven is something a woman can ascend into after turning 40 and reside in for as long as she wants until she decides to Crone.
She combines a worldly knowledge, wisdom and expertise with an energy and vibrance that make her magnetic, sexy and powerful. She is independent from guardians and free of dependants, she can sow wild oats and heal wounds from her past. She is a creature of catalyst and challenge, distillation and divinity. Both powerful and authentic, a Mayven knows her worth and who she is and isn't afraid to show it and receive respect. She is fierce, guided by her intuition and relying on it, as do others, for she can see what is important and what's, frankly, bullshit. So with this Festival, we are harnessing, promoting and celebrating the Mayven, and taking inspiration from what she represents to create a multi-disciplinary, multi-generational feminist arts festival together with co-producers Hall for Cornwall.
What's your top tip for the Mayven festival – what shouldn't be missed?
Well I'm really excited about the whole line up!
We've got amazing local talent, contributions from mayvens like Sue Hill, Caroline Wilkins and Bec Applebee, and we've got some secret gigs and special events from people who audiences down here will never have had chance to see outside of London or the Edinburgh fringe, such as award-winning comedy like Ada Campe (Redruth Drapery, Thursday 21st) Elaine Miller (The Poly, saturday 23rd) and Radio 6 musician Flo Perlin (playing with us on the 16th at Hall for Cornwall and the 18th in St Agnes Library) – of course if you want to see them altogether along with lots of other fabulous talent and some gin cocktails my top tip would be The Madcap Mayven Cabaret at Penlee Theatre on the 20th – I'd love people to join us for this as it's mine and the company's birthday so we can all get drunk and have a lark together!
Oh, and if you want to see the only man in our line up, you don't want to miss the last event, Game On at Hall for Cornwall on the 24th, a hilarious pub quiz game show knock about staring Shazz Andrew and Ciaran Clark, it'll be anarchic and daft and I can't wait!
Scary Little Girls make things happen all over the UK – why is Cornwall so important to the company?
I set up the company to cross-pollinate between Cornwall where I grew up and other places I was working, the north, London, abroad, all the other regions where I was touring our smaller and mid-scale theatre shows. And don't get me wrong, we still love to travel about and of course we'll go where people will pay for us to be! But I can truthfully say, I haven't found other rural areas that have their own unique, highly developed and skilful arts sector like Cornwall does, we are really special. Our landscapes are inspiring and our communities are used to facing challenges together and making good times come out of tough breaks, and I feel like the arts companies down here help each other out, we lend each other props, costume, spaces to rehearse. The work couldn't happen otherwise, we are skills rich but cash poor as a county, I'm in awe of what Cornwall creates and I'll always be trying to contribute to its economy and show others up country how cool we are down here.
What advice would you have for young people wanting to work in the arts industry?
My advice to all young people is talk to older women, this goes for arts, for everything. They'll have done the things you re trying to do, they'll have gone through similar situations, probably with more obstacles, and if you talk to them you don't have to invent the wheel, you can stand on the shoulders of giants. Society ignores older women at it's cost, I'm always looking at the path ahead and thinking 'whose already there to give me a heads up on the dips and corners'. And of course that means I also know the importance of looking around and seeing who might need to know what I do, so we can go forward together, skill-sharing saves so much time! I'd say to young people, give yourself permission to make up your own job, don't get tied up in the expectations of others, and if you see a company you like try to make friends, drop them and email and see if they have time for a cuppa, you never know, it could easily be the beginning of a beautiful friendship.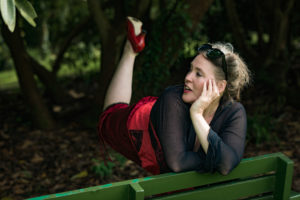 When you aren't working, what would your ideal day in Cornwall be like?
I travel a lot for my work, and I have very few weekends or days off, so when I do I'm super lazy! My ideal Cornish day is to get out in my dad's garden, looking out over the sea, with a glass of fizzy in my hand, and read a book in-between visits from friends. What a dream, flowers, views, stories and lovely friends and family…I know it's not a very interesting answer but it sounds like sheer bliss to me, and I'm too old to lie to myself or you!
So when the summer element of the Mayven festival is complete – what's next for Scary Little Girls?
I think as always it'll be a combo of some exciting projects we are swimming around delightedly, while paddling away madly beneath the surface desperately trying to fundraise and keep our jobs! That stuffs the same for everyone, I won't bore on about it, just to shout out to say 'this too shall pass', and reach out if you need us, we'll be trying to support artists and communities as well as ourselves so let us know what you might need. In happier thoughts, we've got some fun stuff coming up locally and nationally. Up London way, we've been commissioned by Historic Royal Palaces to write a new play for young people about Sophia Duleep Singh, princess, suffragette and rebel, and that's going on it's first tour in September. Then we are back for more Mayven events in the winter, and a weeks residency with St Agnes Library in the autumn, working with schools and community groups in that wonderful village. And with our Greenham hat on we'll be celebrating this years 40th anniversary of Embrace the base, the largest female led protest since suffrage, so we'll be in touch about ways you can join in with that – watch this space, plenty more to play for!
The Mayven Festival runs 16th – 23rd July.
---
SCARY LITTLE GIRLS
Facebook | Twitter | Instagram