Article
Cheap Date Dance: Stairs
A new show by Cheap Date Dance featuring comedy, theatre, poetry, spoken word, sound and dance based around the theme of stairs. Brought to you by Carn to Cove rural touring.
From the top step to the bottom step to the cupboard under the stairs, what stories do your staircases tell? Inspired by literature around the theme of stairs, and featuring pieces from award-winning poets, Cheap Date Dance's new show is a great experience for all ages. Young ones will be captured by the magic and mischief of the staircase – which seems to have a mind of its own –  while adults will be entertained and reminiscent, encouraged to reflect on the significance of stairs in their own life. This performance is part of Carn to Cove's autumn rural touring season in Cornwall. Read on to find out more.
If contemporary dance is not normally your choice for a night out, this show is a great opportunity to dip your toe in and experience dance within other types of performance. Stairs is interspersed with moments of dialogue, poetry, clowning and physical theatre and along with a clever, and at times, comical set, will keep you engaged and entertained throughout. Whether you're a theatre nut or a fan of spoken word, come and open yourself up to Cheap Date's unique style of storytelling.
The show, presented by 2 performers (and a hardworking stage crew!) explores the role stairs can play in our lives, starting when we are very small. It provokes personal memories and stories, through each scene exploring different themes around staircases. Those times as a child when you would sit on the top step rebelling against bedtime and listening to the world going on without you. Or maybe you felt like king of the castle commanding your parental subjects below.  What about the cupboard under the stairs – was it a hiding place? A sanctuary for reading a good book? Or a chest of family history and lost items – like that old red wellington boot? Perhaps you once found a Narnian forest behind the row of coats, or the tardis waiting to take you on a Sci-fi adventure. A. A. Milne's poem Halfway Down features in the show, reflecting the meaning of the middle step:
Halfway down the stairs is a stair where I sit. There isn't any other stair quite like it. I'm not at the bottom, I'm not at the top; so this is the stair where I always stop. Halfway up the stairs, isn't up and it isn't down. It isn't in the nursery, it isn't in town. And all sorts of funny thoughts run round my head. It isn't really anywhere! It's somewhere else instead!
– A.  A. Milne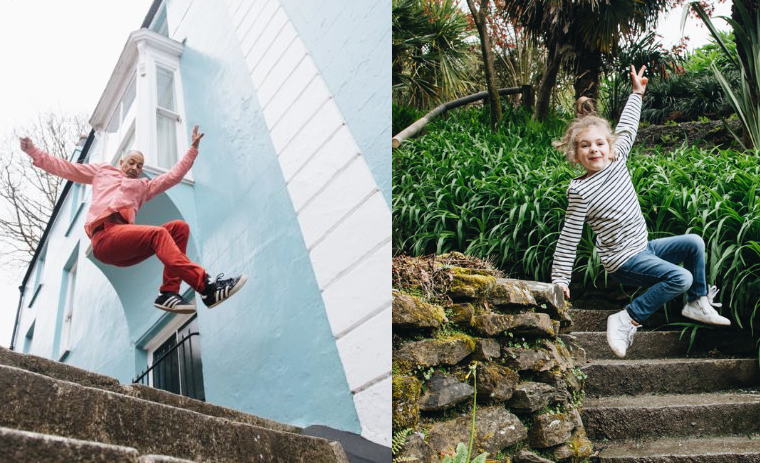 The performance also showcases new poetry from Luke Wright, as well as The Cornish Writer – Taran Spalding Jenkin. As well as sound effects and a great musical backing track featuring The Proclaimers I'm Gonna Be (500 miles) and more. Using a combination of contemporary dance and physical theatre, the two performers deftly move about a tiered staircase set which is able to swivel to create different scenes, by featuring the cupboard underneath or an outside wall on the opposite side. Some of the stairs also have opening flaps which are great fun for hide and seek and initiate a lot of comical moments. Although watch out – the staircase often has a mind of its own – with items randomly appearing and disappearing – as it plays tricks on the performers.
The set was designed and built by Cheap Date Director, Grace and Nicholas Murdoch, under their joint company Murdoch Designs. Made specifically for rural touring, it can be packed down and re-built into community spaces all across Cornwall, big and small. After the show, the audience are invited to go behind-the-scenes and explore the inner workings of the set. Children and adults alike will have a great time playing peekaboo with the stair flaps and clambering around. Or talk to the cast and crew and find out how it was constructed.
The merging of art forms, verbal narrative and participation elements in Stairs, showcase dance in new ways and makes the show enjoyable for all ages. If you're looking for something to do with family and friends this autumn you can catch Stairs and more dance performance through Carn to Cove's autumn rural touring scheme.
Upcoming dates in Cornwall:
Friday 25th October | Landulph Memorial Hall
Saturday 16th November | St Wenna's Church, St Wenn
Carn to Cove brings quality performing arts to community spaces across Cornwall, from Torpoint to St Just. The team support local volunteers to programme live music, dance, film, theatre and comedy from a curated 'menu' put together by the charity twice a year. Carn to Cove currently have over 70 participating venues, you can find your nearest venue here.
Still to come in the Carn to Cove autumn season:






To find out more about Carn to Cove shows, dates and venues view our listings.
---
About Cheap Date
Cheap Date are a dance theatre company based in Cornwall, who rummage through the intricate simplicity of just being here. Founded in 2013 Cheap Date offer unique performance experiences, touring work and educational workshops.
Facebook | Twitter | Instagram | YouTube
About Carn to Cove
Carn to Cove is Cornwall's performing arts scheme for rural communities. We are a pioneering charity who fill local sports halls, chapels and our wonderfully varied village halls with poetry, laughter, music, drama, stories and dancing.