Article
Cousin Jack's Percy Pengelly and the Wibble-Wobble
Community Reporter, Jennifer Holme, headed to Tremenheere Sculpture Gardens to meet Percy Pengelly in Cousin Jack's new high-energy and family-friendly show.
Cousin Jack's is back once again, creating theatrical magic and bringing joy to audiences in Cornwall. Cousin Jacks are a theatre company that focuses exclusively on creating work for family audiences, inspiring people of all ages with rich stories of Cornwall and its people.
This new production was performed in the big top circus-style tent at the beautiful Tremenheere Sculpture Gardens near Penzance. Set in a sheltered valley overlooking St Michael's Mount, the exotic and sub-tropical planting at Tremenheere is interwoven with an evolving programme of contemporary artwork by internationally renowned artists.
Cousin Jacks' tall tale explores the life of Cornishman Percy Pengelly and the ups and downs as he searches for a new career in Cornwall: from the dizzying heights of a tightrope walker in the Big Top to the more stinky and mundane jobs in life.
The audience was sat in the round, surrounding the stage and face-to-face with the performers, which allowed all of the excited children to get up close and involved with the action and see other audience members' reactions throughout the show. The wonderful cast of three played a wide variety of funny, lovable characters who kindly led the children through the captivating story of dealing with having a 'wobble' in life.
Throughout the show, we met an array of very relatable Cornish characters, and with the use of the Cornish language scattered throughout the performance's dialogue, my family and I were made to feel right at home. The continued clever use of props and staging helped the audience to illustrate and imagine all the twists and turns of the everchanging story (and the one very big surprise, which had everyone laughing)!
All the magical music and songs were skillfully performed and gave a real richness to the performance. The whole audience was involved in the action and was singing along with the actors. The show was not only entertaining but also inclusive to those with disabilities or learning disabilities. Cousin Jacks used Makaton ("keyword signing") in the performance, a simple and easy form of signed communication for those with learning or communication difficulties.
Cousin Jack's has once again created a truly Cornish and joyfully inclusive delight. The laughs come easily, with children and adults alike swept along in this physical and musical treat.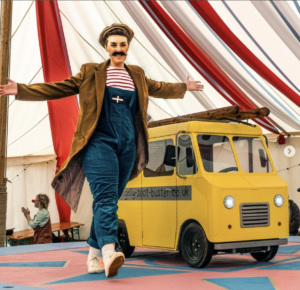 ---
COUSIN JACKS