Article
Discover more about Wildworks
Find out about one of Cornwall's leading theatre companies ahead of their new production, Meet Me At The Edge.
Founded in 2005 by Bill Mitchell the company creates landscape theatre on an epic scale, often outside in the elements. They are based in Cornwall but their work takes them to locations across the world from Palestine to Belgium, and in diverse venues including palaces, cliff tops, woods, and night clubs. Recent shows that you might have seen in Cornwall include 100: The Day Our World Changed, Wolf's Child, 100: Unearth.
Bill Mitchell passed away in 2017 and since then the Company have delivered a slate of his work, as well as navigated the best path for the company to continue.
Ahead of their new production, Meet Me At The Edge, we caught up with Executive Director Emma Hogg to find out more about the company and what the future holds.
You recently announced a new Artistic Director, Mydd Pharo, after a time of reflection and planning, tell us more about this appointment.
We are delighted about Mydd being the new Artistic Director. The company had been dealing with uncertainty for a long time due to Bill's diagnosis. No one could imagine Wildworks without Bill despite conversations about the future and when it happened we needed time and space to think. We are hugely thankful to our funders for allowing us this time which meant we didn't rush into a decision.
We needed someone that understood our process to lead the Company. Mydd grew up with Wildworks and after him stretching his wings working with us and with other companies, it feels like the right moment for him to lead.
Over the past few years there have been moments where it felt like we were treading on ice but now it feels like we are solid and united as a company around this decision.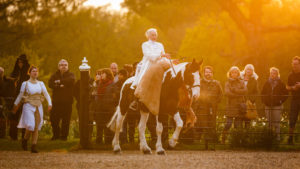 We are really excited to have Bill's Attic with us on site at Krowji. What do you think makes the collection so special, and what do you think it has to offer the artists who come and use it?
Bill was an incredible human being, and a brilliant artist and designer turned Artistic Director. His attic was a sanctuary and part of his individual process. Bill thought and looked at the world around him in a different way. You can see this in what he collected and how he worked with it in the attic.
Bill loved car boot sales and bidding on random items on Ebay. For example, he had a huge collection of postcards. One postcard on its own isn't special but the way Bill used them and catalogued them made them unique. The attic was ever changing and never static.
The attic was Bill's space and a reflection of how he worked. We hope the new Bill's Attic space at Krowji can inspire artists to discover their own process. The space is a place of intrigue and inspiration where artists can think about their own work. Bill's Attic is a place to play and be dynamic, it is not an exhibition or museum.
We've loved reading your recent blog series on what makes Wildworks. What do you think are the ingredients in a Wildworks show?
Our values are really intrinsic to our work, and theatre is the outcome of these values. Being human is a constant theme in our work. From the core company to freelancers to community participants to the audience. Freelancers are vital and we are hugely reliant on them.
The audience are always part of the show. The show doesn't work unless the audience are there, especially as we are not working in traditional theatre spaces. We adapt a show to suit the audience and you always get a different reaction for each performance.
The weather is a part of the show too. We are currently working at Botallack and the weather there can change in an instant from thick sea mist to bright sunshine.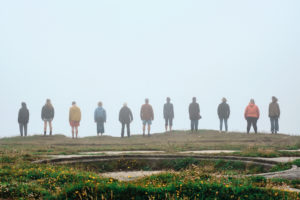 How does Cornwall influence the company's work?
The company is rooted in Cornwall. Work starts its life in Cornwall even if the largest version of the show has to be made elsewhere (and largely this is due to funding). Our work is born out of Cornwall's theatrical tradition that is outside and in the landscape.
When Bill was diagnosed he wanted to bring Wolf's Child back home to Cornwall following it's run in Norfolk in 2015. We postponed the show by 12 months in order to find a suitable venue and make this happen.
What is your favourite Wildworks show or moment?
I started my time at Wildworks (like Mydd) as a volunteer and the first show I was part of was A Very Old Man With Enormous Wings.
100: The Day Our World Changed was the first time I was paid to work on a production. When people were talking about the show I got goosebumps and I said to Sue [Founding Artist Sue Hill] that I needed to work on it, I didn't care what I did, I just wanted to be part of it. 24 hours later Bill gave me a call and invited me to be part of the production.
The show was so special commemorating WWI but it was also hugely stressful. On the day it was really hard going and I got to the end of it and was so sad that I wasn't going to be able to do it again and enjoy it more. I've since learnt to find moments of joy within the stress!
However, the memory of 5,000 people standing in a meadow, sharing grief in silence as the names of the fallen were read out, will stay with me forever.
Finally, what shows have you got coming up?
2020 was supposed to be the year when we bought back a big show, and ironically it was going to be indoors! We were just about to announce Bluebird when Covid-19 hit. It's a retelling of the French fairy tale Bluebeard's Castle and will take place in Cornwall, but this is now on hold until 2021 so watch this space…
This Sunday sees Meet Me at the Edge, one day filled with performances on the cliffs at Botallack, down on the Tin Coast. We felt that it was really important to get out there and do something. We talk about the fact we experiment, are brave, and can adjust, so this new piece is less of a show and more of an audio soundscape.
Each project is unique and we look to find a sense of the epic in each one, sometimes this is scale, or numbers of people; Meet Me at the Edge is taking place from sunrise to sunset so every show will feel and look slightly different.
We also know that there are many people who are unable to join us in person so we are live streaming the 16.30 on our youtube channel using a 360 degree camera.
We think this will be the first project under the title of Meet Me At The Edge and we hope different groups of people will respond to the work and we can find and tell more stories through this theme in the future.
Meet Me At The Edge takes place on Sunday 20th September at Botallack, Tin Coast. Missed out on tickets? Sign up to be first to know next time.
Images:Wildworks
---
Wildworks
Wildworks makes theatrical, site-specific experiences and artworks all over the globe. From beaches, clifftops and woodlands to car parks and disused quarries. From derelict department stores to medinas, from refugee camps to castles. We invite the people who inhabit those spaces to join us on physical and emotional journeys telling everyday human stories through sites that are both familiar and re-imagined; where horizons are widened, boundaries are hurdled, conversations are started, people are celebrated, and memories are made.