Article
Walk of the Month: Golitha Falls and Siblyback Lake
A circular walk through the Golitha Falls National Nature Reserve along ancient rights of way to pass around Siblyback Lake where the remains of a mediaeval field system rise from the water when reservoir levels fall.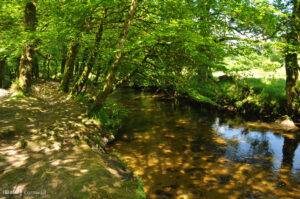 Highlights include:
National Nature Reserve at Golitha Falls with beautiful woodland and riverside scenery
Panoramic views of the lake and surrounding hills from the ancient trackway from South Trekieve
3-mile lakeside path around Siblyback
The walk starts from Draynes Bridge and loops through the Golitha Falls nature reserve. The route then crosses the Bulland Downs to the hamlet of South Trekieve to follow the remains of an ancient walled trackway which now fades out at the reservoir dam. The walk then follows the path around the perimeter of the lake before returning to the Golitha Falls car park.
Gradients: After crossing Draynes Bridge, there is a steady climb on the lane to reach the gate onto the Bullan
d Downs. At Trekieve there is a short climb on the footpath which fairly quickly levels out.
Distance: 6.1 miles – Steepness: Easy-moderate
Footwear: Walking boots; waterproof boots (possibly wellies) in winter.
Dogs: Dogs need to be on leads around Siblyback lake. Cyclists also use the lakeside path. There are 3 stiles on the route. Two of these are stone footholds over a wall that dogs will need help with. One wall is quite high but there is a hole in the wire mesh fence alongside this one. Fields on the route are used for grazing.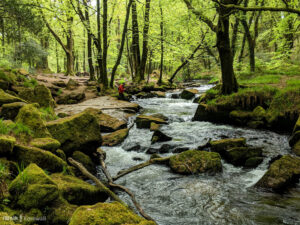 Read more and download the walk here!
---
iWalk Cornwall
iWalk Cornwall is a collection of thoughtfully-crafted circular walks and a guided walks mobile app created by two brothers from Trewarmett who are passionate about the mindboggling number of amazing things in Cornwall.
Facebook ~ Twitter ~ Instagram ~ Pinterest