Article
Late at Tate – Gallery After Hours Returns with a Bang
Late at Tate returned to Tate St Ives for the first time in three years with a vibrant programme of art, music, film and more on Friday the 23rd of September.
As the sun set over Porthmeor Beach giving the old gasworks building a golden glow, the gallery buzzed with visitors watching short films, meeting friends at the café and checking out Ad Minoliti's Biosfera Peluche / Biosphere Plush exhibition where most of the action took place.
Going first to Minoliti's colourful, alternative universe in Gallery 6 helped set the scene for the evening. Big geometric shapes covered the walls in bright blue, green, orange and red. Stuffed animal humans called 'Furries' were placed around the artist's imaginary world, blending the lines between Earth and space, cartoon and reality, gender and sexuality.
While the Mongolian Disco Show turned out Latin beats from South America and electronic music from Europe, people were creating their own alternative narratives at Minoliti's Feminist School of Painting. There were round tables reminiscent of primary school set up around the room with paper, colouring tools and art materials for visiting 'students' to use. My favourite part was looking at the drawings and paintings people made that were up on the wall. The two zine shelves of self-published booklets were fun to flip through, too.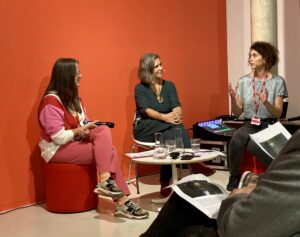 "Painting is not limited to a technique. It is a visual language that can be manifested with diverse materials." – Ad Minoliti
Before making my way back to the Foyle Studio for the debut screening of "Zenae" by Islands of Women – I love how peaceful it is wandering through the galleries after hours – I head to the café for a glass of wine and short break out on Tate's beautiful terrace. Overlooking the beach and Atlantic Ocean, their terrace, conveniently located next to the ever-tempting shop, must have one of the most stunning views of any museum. The £5 Locals Pass is worth it for the views alone in my opinion (no Tate didn't pay me to write that).
Back downstairs, I attended the screening of "Zenae", a film inspired by ancient literature and how women have traditionally cared for others and our natural environment. I enjoyed the familiar scenes shown in the 15-minute film from around Cornwall and the Isles of Scilly and also how the storyline was narrated by lots of different women. The abstract style of the film and range of women's voices made it feel relevant to many time periods, ecosystems, nationalities and histories. After a Q&A with filmmakers Rose Gibbs and Léonie Hampton, one audience member asked if it could be played again; she was in luck, there was time before the next event.
Disco Rococo rounded up the live music acts for the evening – and with a bang! The indie rock band, formed by three visual artists, fit in perfectly with Minoliti's outer-space, supernova world, wearing colourful outfits and playing music that pulsed through the gallery. As the kids danced and I roamed around the centre of the building (a semi-circle of windows facing the sea) the night was deemed a success. Late at Tate is back and I for one am happy for it.
Currently on at Tate St Ives is Wilhelmina Barns-Graham and Jonathan Michael Ray (until 2nd October), Ad Minoliti's Biosfera Peluche / Biosphere Plush (until 30th October), Artist Rooms: Sol LeWitt (ongoing) and Modern Conversations (ongoing). To find out more about their collection and plan your visit, click here!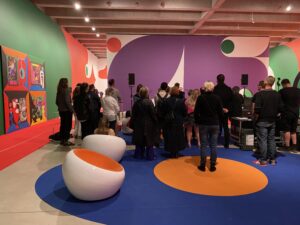 ---
ABOUT TATE ST IVES
Explore the modern stories of artists and the town of St Ives. Discover 100 years of art, celebrating how West Cornwall has welcomed and inspired artists and revealing new connections to artists from around the world.
Facebook | Instagram | Twitter