Article
Let the fun be-Gin!
Amazing distilleries | Beautiful botanicals | Fabulous flavours
It's been a long, hot summer and one thing we've enjoyed nearly as much as the endless sunshine is discovering the glorious selection of Cornish tipples available on our doorstep. From fruit infused gins and rum steeped in Cornish coffee, to unaged white whiskey and cocoa nib vodka, whatever your preferred poison, we're sure we've found something to tickle your tastebuds. So, pour a splash (or two), clink your glasses and get ready for some new and exciting drinks to enjoy this autumn. *Always drink responsibly!*

Aval Dor (Cornish for potato) Vodka is crafted from the finest King Edward potatoes grown on the Colwith family farm near Lostwithiel. Distilled in a tiny copper batch still then blended with mineral water from an aquifer beneath the farm, the smooth and creamy flavour can be tasted in every sip. Try it neat over cracked ice.
Husband and wife team, William and Rubina Tyler-Street, became curious about setting up a bespoke spirits brand in 2012. Intrigued and inspired by fragrant botanicals and natural ingredients, their vodka is infused with Peruvian cocoa nibs and distilled for a fourth time to create a sophisticated, smooth dark chocolate flavour. Try it with coconut water or Cointreau and orange zest.
Infused with the leafy green citrus notes of hand-picked hops and hints of fresh rosemary and thyme, this is a truly unique organic hop vodka. If you're looking for a a drink that's wonderfully refreshing, Wolf of the Woods is for you. Try it with a splash of soda and a twist of cucumber.
Coffee. Rum. Cornish coffee and rum. It's as though The Cornish Distilling Co. were reading our minds! Kalkar rum takes its name from the word for 'weaver fish' in Cornish and is the creation of Head Distiller Tom Read. It's four key ingredients are Nicaraguan coffee (from Falmouth's Origin Coffee Roasters), white rum, water and raw sugar cane. Try it on its own with a cube of ice, or mixed with coconut water as an exotic tall drink. Or add a splash to an espresso martini, or pour it over ice cream for an irresistible dessert.
Dead Man's Fingers is a delicious small batch, spiced rum, created by The Rum & Crab Shack in St Ives. A blend of Caribbean rum and spices, get ready for a magnificent blend of saffron cake, Pedro X ice-cream, caramel and vanilla with cinnamon, nutmeg and orange! Try it neat, over ice, or mixed with sweet cola or fiery ginger beer.
Distilled in Latin America before arriving on the shores of Cornwall in charred white oak barrels, to be delicately blended with the purest Cornish water, Rathlee's Rum is smooth on the palate with notes of tropical fruit, honey, vanilla, and a warm peppery-spice finish. Try it straight over ice to experience the spirit's purity of flavour or as part of a delicious cocktail (we recommend the Canchánchara).

Another wonderful creation from Colwith Farm, Stafford's Gin is made with a delicate selection of botanicals foraged on the farm including lemon balm, rosemary and bay in addition to juniper, coriander, lime zest, almond & macadamia sourced from further afield. Try it with your favourite tonic or as a dry martini!
This rich herbal dry gin is packed with gorse flower. Created by Stuart at Atlantic Brewery, it is floral, grassy, earthy and the first Certified Organic Gin from Cornwall. Try it with any quality Indian tonic water and a garnish of fresh mint leaves and lime zest.
The first in their line up of exceptional spirits, Curio's Rock Samphire Gin combines hand foraged ingredients from local cliff edges with fragrant botanicals. It captures the light, fresh sea spray and wild aromas of the Cornish coast. Try it neat with just ice and a garnish. Delicious. Or as part of a simple Curio cocktail… Or use it to make some scrumptious sloe gin!

A modern take on a fruit led dry gin, this delicious tipple from Tarquin's has a touch of sweet Cornish wildflower honey and British blackberries, as well as fourteen hand selected botanicals. Try it in a large wine glass filled with ice and topped up with sparkling wine. Garnish with fresh blackberries and mint.
Elemental Cornish Gin is a family company masterminded by Jon and Jilly with the help of their two eldest children Alice and Jeremy. Only Organic English alcohol grain and locally sourced Cornish spring water are used in the production of Elemental Gin. Infused with pure raspberry juice, this fruity number is one of our favourites. Try it with tonic water, or if you fancy something delicious and sweet, serve with lemonade, fresh raspberries and a squeeze of lemon.
Possibly the most fabulous accident to happen in the world of gin making, Tinkture Rose Gin changes colour, from golden amber to a delightful pink, when you mix it with tonic! Made using fresh organic roses and distilled by hand in copper pot stills at a distillery on the Cornish coast, it's a delightfully light, delicate gin you just have to try! Try it with tonic of course!
Trevethan Gin was invented by Norman Trevethan in 1929 purely for his family and friends to enjoy. A unique and truly Cornish gin made from local hedgerow ingredients and family recipes, he epitomised rural ingenuity and creativity in a time before the word 'craft' was fashionable. This new Honey Oak Gin has a delicious smooth flavour and each bottle is hand-signed! Try it with a slice of lemon.
Green Cart Botanical Gin contains a wonderful combination of Cornish flowers, herbs, roots, berries and hedgerow botanicals. The distillery grows the majority of their botanicals on site and their expertise in essential oils has led to distinctive blends of florals, herbs and trademark resins. Try it on its own as a fantastic winter warmer.
Produced in a small craft distillery in Long Rock, just outside of Penzance, this is a classic dry gin, with loads of floral (hibiscus flowers) and citrus notes (lemon and orange peel, lemon grass, lemon verbena) and a long sherbety finish (gorse and orris).For every bottle sold, the distillery donates to the Cornish Wildlife Trust, so you can do good while you drink! Try it with premium tonic, garnished with a twist of orange.
From the outset, The Wrecking Coast Distillery wanted to include the icon of Cornwall: clotted cream. Made using the unique approach of building the gin around the clotted cream has ensured a scrumptious velvety richness balanced with the traditional notes of juniper you expect in a gin. Try it with ice, tonic and strawberry as a garnish or simply a zest of lemon.
Made from the choicest 'Maris Otter' Cornish barley expertly brewed by St Austell Brewery and then distilled, matured and blended by Healeys (for eight years!), this is one very special Cornish Whiskey. Try it on its own as a fantastic winter warmer
Taking inspiration from the Cornish rebels of the past, Cornish Moonshine is made with 100% Cornish barley and is distilled 5 times to produce this beautifully smooth un-aged white whisky. Try it with ice and ginger ale.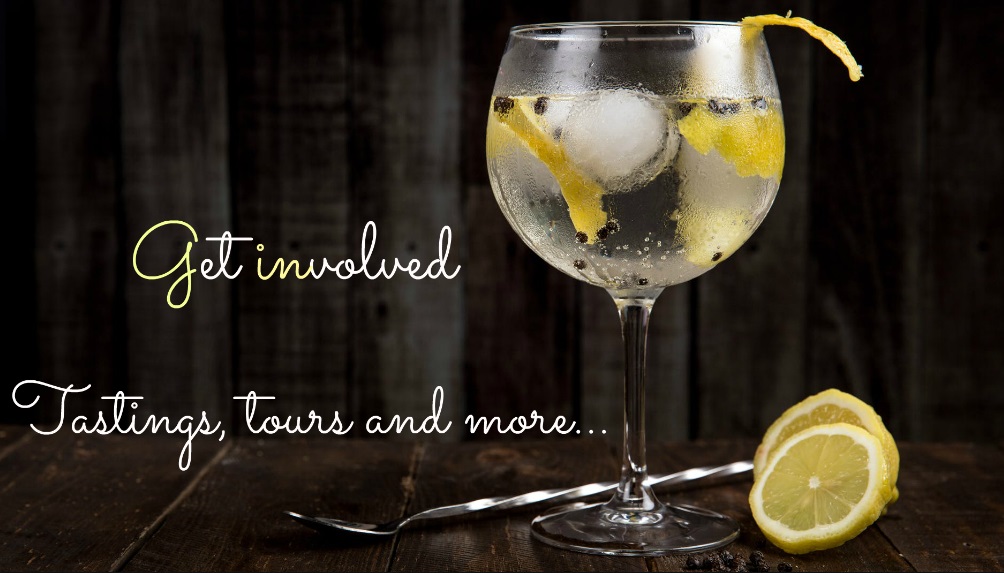 Distillery Tours
1) Plough to Bottle Distillery Tour, Colwith Farm Distillery, Lanlivery, £15. Book here
2) Full Guided Tour, Healeys, Truro, £17. Book here
3) The Gin Masterclass, Green Cart Farm Distillery, Lostwithiel, £59. Book here
Making & Tasting
1) Shake It Up Cocktail Class, Fistral Beach Hotel, Newquay, £29. Book here
2) Gin Masterclass, An Mor, Bude, £90. Book here
3) Cocktail Fridays, The Greenbank Hotel, Find out more
After dark destinations!
1) Dolly's Gin Palace, Falmouth
2) Penventon Park Hotel Gin Bar & Lounge, Redruth
3) Tom Thumb Bar, Newquay
4) The Shed, Falmouth
5) The Rum & Crab Shack, St Ives
6) The Beach Bar, Bude
7) Bedruthan Hotel and Spa, Mawgan Porth
8) The Brig, Truro
9) The Water's Edge Bar, Falmouth
10) Bear Bar, Newquay
11) Ruby's Bar, Padstow
12) Just Be Coffee, Saltash *Keep an eye out for the spirit tasting evenings!*
13) 55 Yards Bar, Newquay
14) The Vault Bar & Kitchen, Penzance
**Please note that prices, availability and other information about the products and events mentioned in this piece may change. We advise that you check the details with the stockist/producer/organiser/venue before purchasing.**