Article
Ocean Film Festival 2019
A firm favourite on the annual calendar, last week we went along to the 6th edition of The UK and Ireland Ocean Film Festival World Tour. This year we were treated to 9 short films exploring and celebrating our love for the ocean and its hidden world beneath.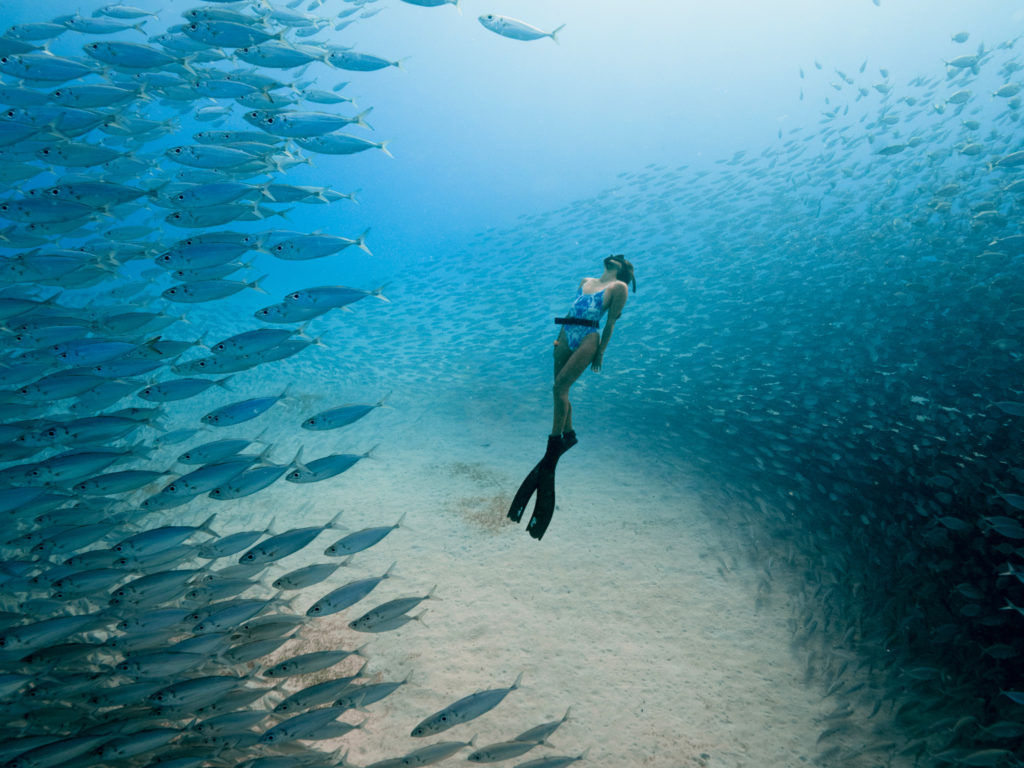 The Ocean Film Festival originated in Australia and now tours almost 50 shows around the UK and Ireland each year. Our local showing in Cornwall was held at Redruth's Regal Theatre which saw packed out audiences 3 nights running, everyone wanting to experience the incredible footage and stories of our oceans. If you love watching Blue Planet or getting out on the water, or have a passion for sealife and conservation, then this is definitely for you! From adventurous voyages, to protecting species to finding the biggest wave, all of the films reflect the beautiful connection between people and the sea. Read on to find out more each each film.
---
The Films
A Place For Penguins
Watch online

The first film on the menu was an amusing tale about a colony of land penguins in Cape Town, South Africa.
Due to a lack of food sources, the species are sadly in decline and penguins are now having to travel long distances to find food. Marine Scientist Christina Hagen discovered that if the penguins relocated to the other side of the bay, they would have a plentiful bounty to raise their young and re-build their dynasty. But how to get the penguins to settle somewhere new, that was the question! Penguins will move their colony to new land if other penguins are already  there, showing that it is a good place to settle and find food. Teaming up with sculpture artist Roelf Daling, Christina wanted to trial a method previously used to relocate other sea bird species such as gannets. Roelf built a series of lifelike penguin sculptures which were positioned in the new ideal colony's home, aiming to trick the real penguins into settling there. A series of footage shows the penguins coming across the two sculptures with some very amusing results. Keep an eye on the Ocean Film Facebook page for updates to see how the penguins get on.
Surface
Watch online

Surface showcases some amazing footage by photographer, Ben Thouard, through developing a new style of capturing ocean waves. Ben lives with his family on the island of Tahiti in French Polynesia and has been searching for a new stand-out method of photography. Through experimenting underwater, Ben has discovered a way of capturing images of the undercurrent effect of waves. As each wave breaks, there is a moment when you can see completely through it to the landscape beyond. This has resulted in absolutely stunning shots of waves wrapped around a landscape. You can view some of Ben's amazing photography here.
I Am Fragile
Watch online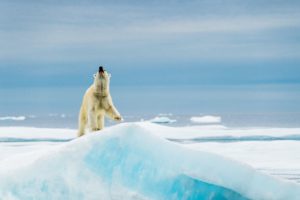 I Am Fragile is "an ode to the frozen far north" by film-maker Florian Ledoux who sailed 6,000km from West Greenland to Nunavut documenting Arctic wildlife. His 5 minute film features beautiful footage of polar bears, narwhals, seals, whales and arctic foxes whose natural habitat is currently under threat. Florian's footage aims to encourage more conservation of Artic Marine animals and habitats.
Manry At Sea
Watch the trailer
Definitely one of the highlights of the festival, and the longest on the menu at 42 minutes, Manry at Sea
tells the remarkable story of Bob Manry, a middle-aged copy editor for a local newspaper in Ohio. Ever an optimist and a positive spirit, Bob decided to leave the copy world behind and in 1965 set out to achieve his dream of crossing the Atlantic Ocean in his 13ft (four-metre!) wooden boat Tinkerbelle. Sailing from Falmouth Massachusetts to our Falmouth in Cornwall, he planned his trip for over a year, saving up to buy all the proper navigational tools, charts and safety equipment and teaching himself celestial navigation. From broken rudders, to falling out of the boat, to lack of sleep, Bob had to overcome many challenges during his voyage, but luckily he never seemed to be short of food. Several passing ships wanted to rescue him, but Bob was content to keep plugging on, so they had to settle for giving him lots of additional supplies. One boat even gave him a whole roasted chicken to eat!
When the papers got wind of Bob's extraordinary undertaking, a media battle broke out on both sides of the Atlantic, with everyone trying to get the best coverage. Planes would fly overhead capturing pictures of Tinkerbelle in the flesh and another paper sent reporters to meet Bob on a boat for an exclusive interview. His wife was flown to greet him as he neared the Cornish coast so the media could take pictures of the reunited couple. Everyone wanted a piece of the story.
"With an exceptional voyage, an underdog for a hero, and a wild journalistic arms race, Manry at Sea is a film that will capture the hearts of ocean lovers, adventurers and dreamers alike."
Forever
Watch Introducing Tony Plant
Only 3 minutes long, Forever is a short but sweet depiction of time and tide. Cornish-based artist Tony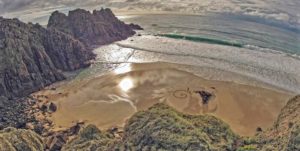 Plant loves creating art in the sand. Using the beach like a blank sketchbook he creates curves and circular shapes, building a large-scale picture when seen from above if you look down from the clifftops. "Nothing in landscape is really permanent. Everything changes" he says, as his paintings are washed away with a new tide, even before he has finished. There is a bittersweet sadness to these disappearing works of art and if you want to look further, perhaps reflections of life itself. Things seem more precious if they only have a limited time so appreciate things while you can. And every ending offers a new beginning, a chance to start over, learn and try something new.
Emocean
Watch the trailer
From Australia to the US to Hawaii and California, Emocean is a "love letter to the sea" recounting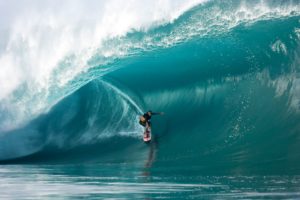 people's stories and relationship with the ocean. Through a series of interviews we find out how people's lives have been influenced and changed – some to extremes – by this passionate and sometimes dangerous yearning for the sea. We meet people who have sustained life-altering injuries from surfing which has not deterred them from getting back in the water in a new capacity – through filming or jet skiing. We meet a family who have built a bond through their shared love of the sport. We hear from a Marine Biologist from Australia and her research into the connection held by indigenous people and sea animals. All of these stories reflect a unconditional love for the sea shared by people across the world. Watch the trailer for Emocean here.
A Piece Within
Watch trailer
Artist Philip Gray is known for his underwater paintings. Not paintings of underwater – actually
painting underwater! Having travelled to Antarctica and the rainforests of Borneo, Philip wanted to capture the unbelievable beauty of Mexico's cenotes (freshwater sinkholes dotted over the Yucatan Peninsula). Having scouted out the best locations through diving, Philip mixes his paints above the surface, using special oil paints that are soluble in water and then with a carefully weighted easel and tools he is able to create unique prints underwater. You can view some of Philip's work here.
The Passage
Watch online
The Passage tells a lovely legacy of the impact our parents stories have on us. Fresh out of college,
Nathan and Ben's parents and uncle, along with a group of friends, decided to set out and become the first people in modern history to canoe the Inside Passage, a trade route through the stunning islands of North-West coast America. This incredible adventure recounted to Nathan and his brother when they were growing up has stayed with them and influenced their own lives. The 1974 journey had started from Washington, with the aim of travelling 800 miles to Juneau, but when the summer ended the troop had to cut their journey short, ending in Ketchikan. 43 years after the original voyage, Nathan wanted to relive his parent's story and make it part of his own. So he and and his brother joined their father and uncle to finish the journey.
Through building on this family history, Nathan comes to the realization that life is like a tree and each adventure a new branch. New experiences don't replace the old ones, instead they grow alongside creating a full legacy. The more branches a tree has, the more magnificent.
Surfer Dan
Watch online

The closing film left the festival on an odd but comical note. Hard core surfer Dan lives in Michigan on the border of the US and Canada. Where a typical surfer might seek a place with sun and sand, Dan regularly surfs in the frozen waters of Lake Superior. Surrounded by blocks of floating ice and temperatures beyond belief, Dan insists he is having the best time of his life. Similar to the stories in Emocean, the physical exercise and peace of surfing has had a great impact on Dan, helping him to give up drinking and he says, save his life.
---
All of these stories reflect amazing human achievement, wonder at the world below and the unconditional love we hold for the ocean. The stunning quality of the footage combined with epic soundtracks and touching stories make for a wondrous night out.
If you missed out on seeing the festival at The Regal this year, you can find other UK dates here.
On Thursday 7th November the producers of BANFF are touring a new film festival to The Regal celebrating the bond between dogs and people. And the well-loved Mountain Film Festival will be back in February 2020. See dates and book tickets below:
Top Dog Film Festival
Thurs 7th November 2019
7.30pm
Find out more & book tickets
Mountain Film Festival
Thurs 20th – Sat 22nd February 2020
7.30pm
Find out more & book tickets
2019 Trailer
---
Visit The Regal Website
Facebook | Twitter | Instagram