Article
Open The Box Arts: The Seven Rituals
Earlier this month, we were invited to watch Open the Box Arts screening of their new film 'The Seven Rituals of Hesitance and Fortitude'.
Open the Box (OTB) create happenings that interweave live performance, visual art, film and sound score to create intimate experiences that touch hearts and minds. OTB is a female-led artist collaboration established by Melanie Young, visual artist, and Caroline Schanche, dance artist, in 2016; together, they perform as The Splendid Sisters, Hesitance and Fortitude.
As I entered the space, I was welcomed by one of The Splendid Sisters. I was handed a small ornate teacup filled with a splash of red wine and a delicate, delicious meringue wafer – this was The Obbligato.
The Splendid Hut, a large black hut reminiscent of a baroque chapel, was stood central; its exterior doors were flung wide to reveal a projection screen flanked by softly lit hangings; the lights dimmed, and the screening began.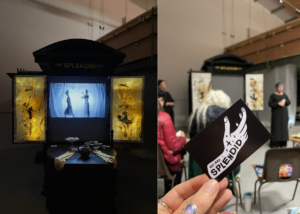 The evocative film followed the Splendid Sisters through a mysterious and moving journey through the process of grief, loss, personal reflection and resolution. We are guided through the seven rituals; each ritual is inhabited by different grande landscapes, stunning scenery and reflective sound scores. There is a beautiful combination of aerial drone footage as we see the Splendid Sister gliding through fields, stepping through woodlands and exchanging hidden objects through an expansive lens. Then we are immersed in the action, up close, seeing the intricacy of their repetitive moment.
The film slowly moves through dark black and white images, gradually growing in saturation, mirroring the emotional process of grief, before ending with the last ritual, 'The Beginning'. In a dream-like celebration of colour, we saw the Sisters in extravagant outfits, seeming larger than life, gorgeously grotesque, illuminated by sunlight. For me, the film acted as a visually poetic representation of the difficult journey of loss and resolution. I was invited to once again sit inside the Splendid Hut; this felt like a perfect way to end the event, residing in a quiet resting place where I could process the happenings I witnessed and make my own reflections.
---
ABOUT OPEN THE BOX ARTS
​OTB create socially engaged arts projects with diverse groups of people, particularly people who may feel excluded from mainstream culture, and create beautiful performances and installations that shine a light on the mysterious process of grief, loss and its resolution. They use collaboration, co-creation and curation to engage, inspire and delight.