Article
RNLI Cornwall: A new exhibition by Kurt Jackson at the Jackson Foundation Gallery
We headed down to the beautiful town of St Just to check out a major new exhibition by Cornwall-based contemporary artist Kurt Jackson. The exhibition is inspired by the Cornish RNLI and, with the BBC's 'Saving Lives at Sea' on our television screens recently, there has never been a better time to celebrate the RNLI's incredible work.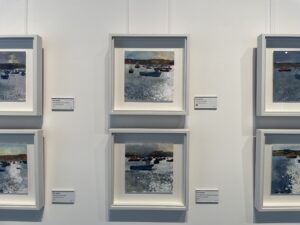 Held at the award-winning Jackson Foundation Gallery, this free exhibition features over 75 paintings varying in scale from small postcard-sized pieces to huge canvasses swathed in paint. Many of them capture familiar Cornish beaches and harbour scenes, with the recognisable blue and orange of the charity's lifeboat featuring heavily. A number of paintings focus on the Penlee lifeboat station in memory of the terrible disaster in 1981, which saw 16 people tragically lose their lives, a tribute to the gravity of the RNLI's work.
Alongside the paintings, there is also a thought-provoking installation in one of the side rooms of the gallery, featuring bags made out of life jackets which have been created by the refugee community as part of the 'Safe Passage' campaign, led by The Last Rights Project. A reminder that RNLI crews and other volunteer sea rescue groups have risked their lives to save others in need in the English Channel and Mediterranean Sea.
Kurt describes his inspiration behind his latest body of work, describing the RNLI as a reassuring presence in Cornwall: "I try not to take this place for granted, but I know that if something went wrong, the lifeguards and lifeboat crews are there. Equally, it's reassuring to know that my family, friends and the wider community are also being watched over."
The gallery itself makes the most of its ex-industrial building roots, offering a really large and serene white space to enjoy the works and contemplate the important and beautiful works on display. There is also an upstairs gallery which explores the work of the RNLI in Cornwall, seen through the lens of the camera over the last two centuries. Entitled 'Through the Lens', the photographs include work from Jack Lowe's ongoing project on UK lifeboat crews and Nigel Millard's dramatic shots of lifeboats in action.
As well as enjoying the beautiful art, we were really moved by the stories behind the exhibitions and felt like we learnt a lot about the work of the RNLI and its vital place within the Cornish landscape. With the exhibition running until August 2023, we definitely recommend a trip to St Just; while you're there, why not tag on a trip to Cape Cornwall, one of our favourite spots, to see the dramatic coastline that inspired this work?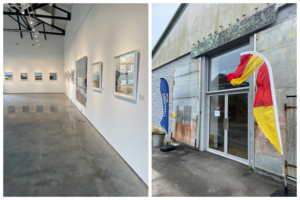 For gallery opening times and more information, please visit: www.jacksonfoundationgallery.com
The Jackson Foundation is holding a prize draw to win one of Kurt's paintings, with 100% of proceeds going to the RNLI. So if you fancy owning a piece of Kurt's incredible work while supporting a great cause, you can enter the draw here (we've already got our ticket!): https://www.jacksonfoundationgallery.com/rnli-draw/