Article
SKANK by Clementine Bogg-Hargroves – A Hilarious Hit One Woman Show at AMATA
Last week, we headed to AMATA to watch The Times Critic's choice comedy-drama SKANK.
The Academy of Music and Theatre Arts (AMATA) is one of my favourite venues to watch a variety of accredited live performances by talented artists from and around Cornwall; you can view AMATA's list of upcoming events here!
On Wednesday, we headed to AMATA to watch Clementine Bogg-Hargroves' hit one-woman solo show SKANK.
Clementine Bogg-Hargroves is a professional film and theatre-maker who creates her own work as well as producing that of others. She has toured her own work across the UK's theatre scene, appearing at the Edinburgh and VAULT Festival.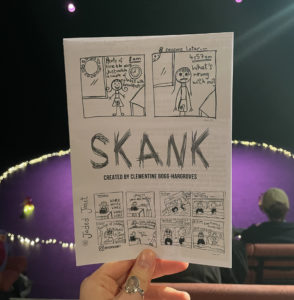 SKANK is a relatable story of self-acceptance, sex, stress, control and the ups and downs of modern life. It was full of ​​witty, relatable and sometimes dark humour, with undercuts of powerful emotion which had the audience laughing one minute, and in tears the next. As you walk into the large space of Studio A in AMATA, you see a minimalistic set: a ring of fairy lights circling the stage, a desk, two chairs, a pink jacket and a laptop. Throughout the entirety of the performance, you are invited and immersed into the life of a young woman, as she shared her lived experiences, treating us, the audience, as a friend.
We were guided through some of SKANK's most funny, embarrassing, painful, personal and poignant moments; all the while trying to recycle a can of beans which even, we, the audience, became attached to. SKANK takes us to her office, to meet all of her weird and wonderful co-workers, like 'sexy Gary'. We see her relationships unfold with her co-workers, family, friends and even herself. SKANK brought a variety of characters to life with recorded audio and multi rolling; a particular highlight for me was when she used her trainer as a puppet!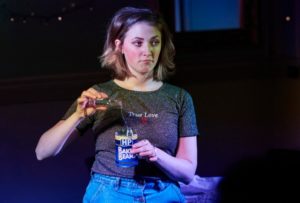 I left feeling uplifted and reflective after watching this thought-provoking one-woman show; excited to share my thoughts, whilst hearing the buzz of other audience members in AMATA's foyer. It was great to be in AMATA once again, watching brilliant theatre in a live audience. I am looking forward to returning to see Misri Dey's scratch show Family Tree on the 23rd and to see what they programme next!
---
ABOUT AMATA
AMATA is a professional venue that hosts a year-round performance programme attracting top artists and performers from all over the world. Recent seasons have seen sell-out shows from leading companies such as Shobana Jeyasingh Dance, Wardrobe Ensemble, Belarus Free Theatre, Forced Entertainment and many more!
Facebook | Twitter | Instagram