Article
Sleeping Beauty – Miracle Theatre awakens the spirits with their sensational winter spectacular!
Swap the winter blues for a magical, most fantastical escape to the Cornish Riviera Holiday Park. The year is 1959, and the cheerful Yellowjackets camp staff have just the thing for feeling fine: a fresh spin on a classic tale.
Before taking our seats for the opening night of Miracle Theatre's Christmas show, Sleeping Beauty, the play had already begun. A group of entertainers called Yellowjackets greeted everyone at the door, making you feel welcome and transporting you to a different era – the 1950s. Debuting at St Ives Guildhall, we were thrilled to attend Miracle's first-ever Christmas show outside of Falmouth.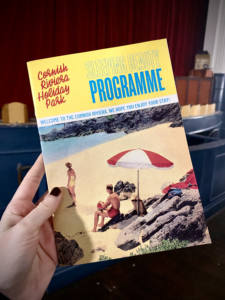 In true Miracle fashion, this is not your traditional pantomime. Thanks to a tip-off from one of the Yellowjackets, we quickly learned that this retelling of Sleeping Beauty is a play within a play. Set at a Cornish Riviera Holiday Park in 1959, camp owners Binky and Bunny Baxter – the most darling long-time sweethearts – put on an evening of music, dancing, comedy and drama for their guests.
Mrs Baxter (Holly Cassidy) played the opening tune of their camp performance of Sleeping Beauty, while Mr Baxter (Ben Dyson) joined a fairy named Titania (Charlotte Bister) and a pisky named Winterbottom (Ben Kernow) on stage. Mr Baxter became Maurice, a goblin with ill intentions and a tendency to overreact. But what's a comedy without overreactions, exaggerated gestures and unexpected plot twists? As soon as Sleeping Beauty, aka Briar Rose (Katy Owen), popped onto the scene, you could feel a special bond between the cast and the spirit of the play really took off!
Soon enough, Mrs Baxter transformed into the Queen, Briar Rose's mother, and Winterbottom, a melodramatic Cornish fairy with near-split-making abilities, switched into the role of King, Briar Rose's father. (If you're still following who's who in this play within a play, bravo!). Unlucky for the royal family's one and only princess – her superpower being a deafening scream that causes everyone around her to crouch in pain – the goblin gets hold of her jar of wishes and casts a spell that puts her to sleep for 100 years. Fortunately, the good fairies have the princess's back and come up with a romantic way to break the spell.
Sound like the Sleeping Beauty you know? Well, let's just say there was an entire second half of the play we did not see coming. A part deux filled with more hysterical scenarios, like when the goblin dresses in disguise as the princess's mother-in-law (black curly wig, leather handbag and all); or when the "mother-in-law" gifts her grandchild a small bomb. Dark? Yes. In a funny way? Also yes.
The performance was sprinkled with support from the jolly Yellowjackets, jumping in on a few musical numbers, and let's not forget about the audience! At first, the front row might seem like a bad idea but as the show goes on, it really is the best seat in the house. My fellow audience members could have helped me deliver an important message to the fairies better but they were fantastic at keeping Briar Rose out of harm's way and helping her find a hidden birthday present. Sleeping Beauty definitely made a few BFFs in the crowd.
Sleeping Beauty is touring from 8 – 31 December at St Ives Guildhall and the Princess Pavilion, Falmouth.
---
ABOUT MIRACLE THEATRE
Miracle Theatre has been touring original, inventive theatre across the UK since 1979. It is one of the South West's most distinctive voices.
Facebook | Instagram | Twitter