Article
The Alverton's Summer Garden Sessions
Last Thursday, we headed to the wonderful Alverton Hotel, to attend one of their Summer Garden Sessions. Read on to find out what we thought!
The Alverton, located in the city of Truro, is a four silver star hotel that oozes elegance, romance and curiosity. As we entered the grounds of the hotel, the stunning original features and breathtaking architecture were a sight to behold. We came to our table and sat on their sun-drenched terrace, surrounded by their private gardens and extensive rolling lawns, framed by a variety of beautiful plants, trees and flowers.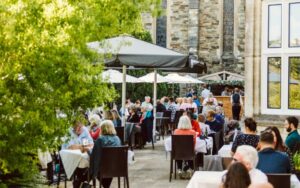 I ordered a drink (included in the ticket price) on my arrival. It was almost impossible to choose, with the huge selection of fresh summer cocktails available as well as their usual extensive menu of wine, spirits and beers. Luckily, we were able to enjoy two 'tipples' for £10 for the whole evening, so I could try a couple of cocktail combos from the menu.
To accompany our cocktails, we ordered some delicious small bites and treats, both savoury and sweet to indulge in as we sat in the sun, basking in the beautiful scenery and atmosphere of the hotel.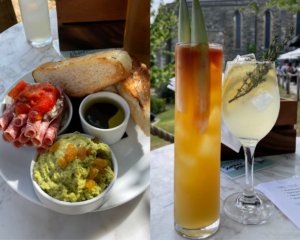 Sam Richardson, a Cornish singer, musician and songwriter, provided stunning vocals and powerful, poetic songs as we sat amongst the gardens. Sam's rich tone was reminiscent of Sam Fender and evokes the timeless power of Bruce Springsteen's depth of songwriting built for the modern era.
I had such a wonderful evening at The Summer Garden Sessions! It was the perfect event to sit back, relax, dine al fresco, and listen to acoustic beautiful music in the summer air, all with a cocktail in hand – I can't wait to attend another session soon!
There are three more Summer Garden Sessions at The Alverton this year, 11th August with Miranda Brook, 25th August with Tom Baker and 8th September with Josh Curnow (to be held in The Great Hall).
As well as their Summer Sessions, The Alverton also hosts a variety of other fun events, like the Cornish Gin and Drinks Festival on the 17th of September, later on in the year, find out more here!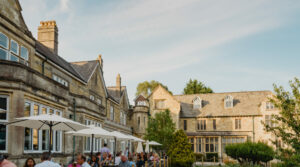 ---
THE ALVERTON HOTEL
Facebook | Twitter | Instagram