Article
The Dolly Show – The Queen of Country Comes to Cornwall
From the West End to West Cornwall, Kelly O'Brien brought the Queen of Country to Redruth's Regal Theatre this week.
Dressed in cowgirl hats and suede fringe vests, country music lovers filled every seat of the theatre's spacious auditorium. After playing the National Anthem and holding a minute's silence in honour of Queen Elizabeth II, the show opened with an ode to Dolly Parton's days on the Porter Wagoner television programme in the late 1960s and early 1970s. West End star Kelly O'Brien glided on stage in white bellbottoms, a sequined blouse and most notably, big blonde hair teased high up towards the sky. As soon as the first song, "Joshua", came to an end, it was hard to believe it wasn't Dolly herself who had come all the way to Cornwall!
Backed by four talented band members – a keyboard player, guitarist, bassist and drummer – Dolly's double sang a soul-stirring selection of the country legend's tunes. In between famous ballads like "Jolene", "Coat of Many Colors" and "Apple Jack", Dolly, I mean Kelly, cracked jokes, shared life lessons, asked the crowd questions and at one point, even invited an audience member on stage to sing a duet with her. She never once broke character, often letting out a Yeehaw and Thank y'all in true Tennessee fashion.
It wasn't only the heartfelt messages and funny banter that kept the crowd cheering throughout the performance – "It takes a lot of money to look this cheap!", Dolly joked about her appearance – her incredible voice and glittering garments really stole the show.
Every note soared during "I Will Always Love You" and she had everyone on their feet for her rollicking rendition of "9 to 5". To add to the excitement, Dolly changed her outfit no fewer than four times. The costumes were as spectacular and dazzling as you'd imagine the real country music star to be in person.
No wonder Kelly is the only Dolly Parton impersonator to have been invited to sing with Dolly Parton's band in Nashville, Tennessee!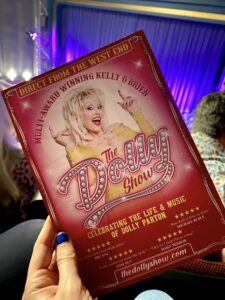 As an American (from the South like Dolly) living in Cornwall, I was very excited to see The Dolly Show. The Regal Theatre is not only a convenient, five-minute walk from Redruth Train Station, but its 470-seat auditorium is an airy yet intimate venue perfect for listening to and watching musical performances like The Dolly Show.
While The Dolly Show continues its tour around England this autumn, the Regal Theatre gears up for a lively calendar of events through next summer. The musical comedy Flo & Joan: Sweet Release takes the stage on the 23rd of October, Queen Live: The Good Old Fashioned Lover Boys is set for the 28th of October and Simon & Garfunkel Through The Years is coming to the theatre on the 9th of November. Check out their full list of events here!
---
ABOUT THE REGAL THEATRE
A friendly local cinema with all the latest blockbusters with a busy bar and restaurant and a live theatre showcasing local talent and internationally touring artists.
Facebook | Twitter | Instagram