Article
The Mousehole Cat – On Screen!
The treasured Christmas show is back for 2020 but in a brand new way. The Mousehole Cat is a live action theatre show adapted by Alan Kent from Antonia Barber's beloved children's book.
It's a cold and wet winter and the Storm Cat has Mousehole in its grips. None of the fishing boats can leave the safety of the harbour and soon the villagers will starve with no food at all, let alone a Christmas dinner. But Tom and Mowser decide enough is enough and bravely set out in their boat. Slowly they make their way out of the little harbour into the churning waves beyond to try and tame the raging Storm Cat…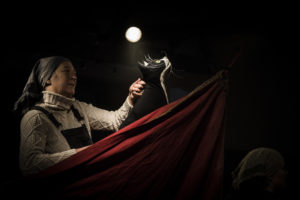 The show, created by Cousin Jack's, usually takes over the Solomon Browne Hall each December but this year the team are bringing it to children and families in a new way…drive-in screenings! Live music, "car-participation" and your very own Mowzer Mini Lantern will put you at the heart of this adventure and warm your spirits like a 'efty piece of star gazy pie!
Screenings are accompanied by a folk driven soundtrack performed live by Cousin Jack's regulars Richard Trethewey and Emily Faulkner.
Drive in Screenings are taking place at Trelissick Gardens on 21st & 22nd December at 5pm & 7pm, and at the Royal Cornwall Showground on 23rd December at 5pm.
Then on 24th December, Cousin Jack's will beam Mowzer into living rooms across Cornwall and the world! Tune in at 6pm and experience the festive magic of The Mousehole Cat from the comfort of your sofa! Perfect to create some Christmas Eve magic before the big day.
There are three tickets types available. It's been a tough year for theatre companies so there is an option of a "Help Us" ticket with a donation going to Cousin Jack's. However, as 2020 has bought changes for many families, there is also a "Help You" reduced price ticket too. Just select the option that best suits you.
This year, more than ever, Mowzer can't wait to make more special memories with you and your family.
Find out more and book your tickets at
www.cousinjacks.org
---
About Cousin Jack's
Cousin Jacks is a theatre company based in Cornwall. Under Artistic Director Guy Watson they create work to inspire children and their families.
Facebook | Twitter | Instagram