Article
Trebah Garden of Light
Cornwall 365 are big fans of a festive event, so we were thrilled to join Trebah Gardens for their Garden of Light this weekend.
Trebah Gardens are a sub-tropical Cornish garden that stretch down to the Helford river. It's a great place to visit at any time of the year, but this December the team have transformed the gardens into something extra special.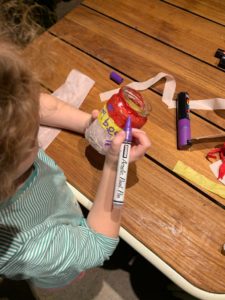 The lantern making workshop
We arrived a bit early and browsed the excellent gift shop (a couple more presents ticked off the list!) before heading into the lantern making workshop, led by Melanie Young. She showed us the two lantern types: one colorful with brightly coloured tissue paper, and the "homes and gardens" version, with leaves gathered from the garden that were silhouetted against the white background. We took children aged between 5 and 11, and the workshop was pitched perfectly with lots of gluing and sticking for the little ones, and more careful construction for the eldest.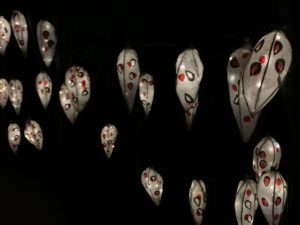 The lantern procession
Once our lanterns were complete we enjoyed a hot chocolate in the café before the trombone sounded, summoning us to the foyer. It was time to set off into the gardens in a procession behind the brass instruments, who played a selection of Cornish and Christmas tunes as we walked.
As we turned the corner we saw the first of the beautiful illuminations created by Tony Crosby (Truro City of Lights) and Laura Francis Martin (Illuminate Festival). A tall plant collector stood on the green overlooking Trebah, the garden he had created. Further into the garden were seed pods and plants hanging from the trees, and a flotilla of tiny, twinkling boats sailing down the hill. We especially loved the graceful swan sitting majestically on the pond.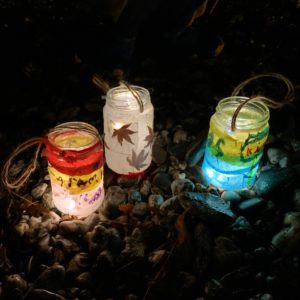 Our journey took us down to the beach, where roaring braziers and delicious mulled wine warmed us before we headed back up the hill. There was still more to discover! A soundscape of flower and plant names accompanied us on the return journey, and lanterns lit the way.
Trebah have once again created a magical experience that the whole family can enjoy. We hope the event returns next year as it will fast become a treasured tradition.
Click here for more events at Trebah Gardens, including their festive Classical Christmas and Twisted Christmas events
---
ABOUT TREBAH GARDEN
Located in a tranquil spot above the Helford River, this 26-acre sub-tropical valley garden boasts more than four miles of footpaths from which visitors can enjoy a colourful and fragrant collection of 100-year-old rhododendrons, camellias and magnolias. Visitors will also enjoy the unique Trebah Amphitheatre, a quirky space that welcomes a wide range of comedic, puppetry, musical, theatrical and dance performances that often spill out into the surrounding gardens.
Facebook | Twitter | Instagram