Article
Una Sessions: delicious food, live music and good vibes at Una St Ives
Wrap up your weekend with a tasty, seasonal menu, a beautiful acoustic set and cocktails that go down a treat. Una Sessions are held throughout the year at Una St Ives, an inviting Cornish resort located above Carbis Bay.
On the outskirts of St Ives, a short drive from the town centre, is the perfect place to unwind and enjoy a woodfired roast with friends or family on a Sunday. From the moment we arrived, we felt the warmth and kindness of everyone who works at Una. My advice to first-timers like me: come hungry.
Knowing that Rue, the musical guest for this December Session, was set to start at 2pm, we booked lunch for 1:45pm. This ended up being perfectly timed so that when she started playing, we were savouring the starters and sipping on expertly-crafted cocktails; I opted for the butternut squash soup with warm crusty bread and soft butter, and to drink, a passionfruit martini that came with a mini glass of prosecco on the side (yes, I was indulging myself but it was worth every sip).
In the background, Rue's mellow vocals and a fun mix of songs by Stevie Wonder, Justin Timberlake and Al Green were playing, making the afternoon even more enjoyable. Before the main course arrived, I walked over to the lounge area where Rue was singing. There are also tables and comfy seating in the lounge next to the bar, where you can hang out and listen to music. Next time, it'd be fun to grab a cocktail or hot chocolate and kick back there. According to our waitress, that's a popular spot with people who go for a dip in their lido – just opened, and very enticing.
Back at the table, our Sunday roasts with Yorkshire pudding, baby potatoes, Mediterranean vegetables and a side of carrots and parsnips, were fresh out of the kitchen. Remember when I said to arrive hungry? I wasn't kidding. At this point, it was an easy decision to save the rest of my cocktail as dessert and focus on this wonderful feast in front of me. Across the table, my partner was already trying his roasted pork shoulder and saying how the crackling reminded him of Christmas at his grandmother's.
The chef, who prepares the plates in an open kitchen, did a fantastic job. The flavours were fresh,c and the roasted veggies super yummy. We'd be lying if we said we ate every last bite but not from a lack of trying!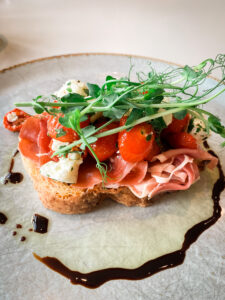 Throughout lunch, Rue kept the good vibes going with throwbacks like "Don't Call Me Baby" and "Let's Stay Together". The spin she put on each song was original and extremely easy on the ear. More times than not, I caught myself singing along (silently, don't worry). Music always makes going out more enjoyable, at least for me, and Rue's vocals and guitar playing were no exception.
My first time at Una St Ives was delicious and incredibly homey. The live music made the afternoon even better and now that they've just opened a lido, my next visit will have to be extended. Swimming in a heated pool followed by hot chocolate in the lounge? Say no more.
Una Sessions are a year-round event with different musical guests every Sunday. Lunch is served from 12-3pm with live music starting at 2pm. Take a look at their line-up and book your table here.
---
ABOUT UNA ST IVES
Situated above Carbis Bay, made famous as the host venue for the G7 Summit in June 2021, Una St Ives feels classically Cornish, seamlessly blending in with the natural beauty of its location. The exceptional quality of their amenities makes Una a holiday destination unlike any other in Cornwall.