Article
Walk of the Month: Polperro Harbour and Headlands
Our monthly walk, specially chosen for us by iWalk Cornwall.
Our first walk of 2021 is a figure-of-eight walk around the fishing village and headlands surrounding Polperro. On the way you'll pass the net loft perched above the harbour, the Victorian sea pool, the site of the mediaeval chapel and the harbourmaster's route to the lighthouse.
Highlights include:
An exploration of Polperro's eventful history
Tidal swimming pool (on calm summer days)
Views of Polperro Harbour, village and surrounding coastline
Wildlife along the cliffs, river and wooded valley
The walk descends through Polperro's narrow streets to the museum beside the harbour, then follows the coast path through The Warren. At Roy's Bench it descends onto Reuben's Walk and follows the coast past the lighthouse and back into the harbour to the Roman Bridge. The route then winds past the Three Pilchards and Blue Peter to the coast path along Chapel Cliff. The walk loops around to the top of Chapel Cliff to descend through the woodland on Brackenside and re-enter Polperro near the site of the Holy Well.
Gradients: There is a fairy long but gentle climb on the first headland followed by a reasonably steep descent. There is a shorter climb on the second headland followed by a fairly steep descent through Brackenside woods. There is a long, steady climb back to the car park at the end but a tram can be used for that.
Read more and download the walk here.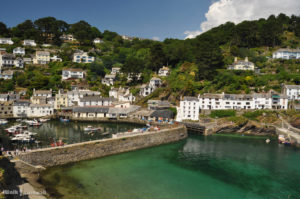 ---
iWalk Cornwall
iWalk Cornwall is a collection of thoughtfully-crafted circular walks and a guided walks mobile app created by two brothers from Trewarmett who are passionate about the mindboggling number of amazing things in Cornwall.