Article
Walk of the Month: Port Quin to Lundy Bay
A circular walk from the fishing village of Port Quin to the golden sandy beaches of Epphaven Cove and Lundy Bay with spectacular coastal scenery, via the cliff-edge folly on Doyden Point built as a gambling den.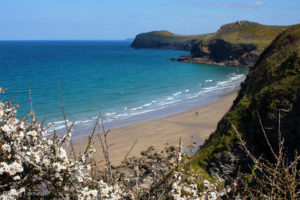 Highlights include:
Pretty fishing village of Port Quin
Spectacular coastline around Port Quin and Doyden Point
Quiet sandy beaches at Epphaven Cove and Lundy Bay
Starting from Port Quin, the route follows the edge of the natural harbour to the folly at Doyden Point. From there the path passes the mineshafts that were once used to extract antimony, on its way to Trevan Point which is now grazed by Dartmoor Ponies. The path then descends to the beaches of Epphaven Cove and Lundy Bay. The return to Port Quin begins beside the collapsed cave and crosses fields via Porteath Bee Centre to join a small lane to Port Quin.
The gorse is coming into flower at this time of the year. The blossom can be used to flavour wine.
Gradients: There is a fairly steep descent to Epphaven Cove. As the route turns inland, there is a steep, but relatively short, path to reach the fields.
Dogs: The stile on the way inland from the coast is awkward for medium-large dogs. For the final double stile exiting the fields onto the road: small-medium dogs can squeeze under the first (wooden) part – large dogs that cannot will need lifting. Small or athletic dogs may be able to negotiate the quite high stone stile following this but otherwise it's a high lift. Less athletic dogs may also need help over the first (slate) stile on the route. There are free range chickens at Porteath just before the Bee Centre.
Distance: 2.9 miles – Steepness: Moderate
Footwear: walking shoes or trainers in the summer
Read more and download the walk here
---
iWalk Cornwall
iWalk Cornwall is a collection of thoughtfully-crafted circular walks and a guided walks mobile app created by two brothers from Trewarmett who are passionate about the mindboggling number of amazing things in Cornwall.