Article
Walk of the Month: Trebarwith to Tintagel
A walk on the tracks trodden by the donkeys laden with slate from the coastal quarries of Trebarwith to Tintagel Haven where the slate was loaded onto ships and Tintagel Castle's island, inhabited during the mediaeval period, the Celtic times of King Arthur, and before this by the Romans.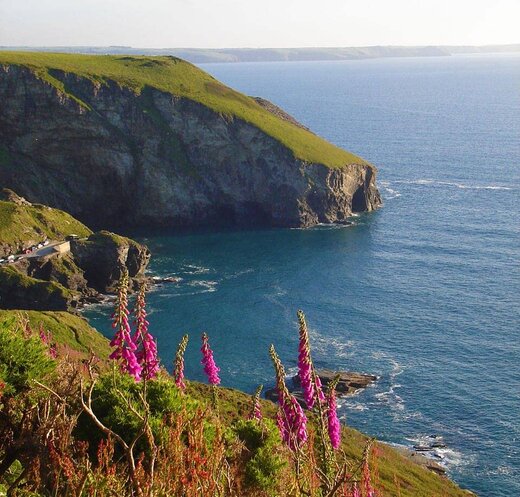 Highlights include:
Panoramic coastal views from Penhallic Point
Wildflowers along the coast in spring and summer
Ancient church of St Materiana
Tintagel Castle and Arthurian legend
Tintagel Haven and Merlin's Cave
Views over Tintagel and the church from Trewarmett Downs
Golden sand, surf and rock pools on Trebarwith Strand
The walk passes the rugged coast of Port Isaac Bay from Trebarwith Strand to St Materiana's church on Glebe Cliff and then to Tintagel Castle. The route turns into Tintagel from Barras Nose, passing the impressive Victorian Castle Hotel, the mediaeval Old Post Office and King Arthur's Great Halls before returning via Treknow – one of the oldest slate quarrying villages in North Cornwall.
Gradients: There is a climb at the start of the walk from Trebarwith Strand to the cliff top which includes a short climb up a fairly steep slope to reach the highest point on the cliffs. The rest of the coastal section isn't particularly demanding. Where the route turns inland after Barras Nose, there is a steady climb on the path to Camelot Castle hotel.
Read more and download the walk here
---
iWalk Cornwall
iWalk Cornwall is a collection of thoughtfully-crafted circular walks and a guided walks mobile app created by two brothers from Trewarmett who are passionate about the mindboggling number of amazing things in Cornwall.