Article
Wildworks: Meet Me at the Edge
On Sunday Wildworks live streamed their production of Meet Me at the Edge. Due to a national restriction by The National Trust the in person (and Covid safe) event was unable to take place as previously planned. However, the ever resourceful Wildworks bought the landscape into our living rooms through the magic of YouTube.
The piece opened with the voice of Sue Hill majestically reciting the shipping forecast (I could listen to her all day) against a background of soft classical flute and strings, with other audio occasionally crashing in as if a radio was being retuned. This overture was a calming experience, especially when looking out (viturally) to sea from the Botallack cliffs.
The iconic Radio 4 pips bought the introduction to an end and a haunting soundtrack began to play. The beautiful voices sang in harmony introducing us to the themes of being at the edge. Whilst this played one of the performers (Mary Woodvine) walked down the coast path encouraging our gaze to follow her as she reached the edge of the cliff.
"There are times when one hangs, suspended, hovering between the past and the future. There aren't many times like this"
Mary's voice flooded our headphones with poetry written by Mercedes Kemp. Emerging from this poetry came the first story about a woman who left her home with just some earth and some seeds. When she arrived at her new home she lost her mother tongue. The storytelling moved between the two performers, their contrasting accents bringing texture to the story.
"As I learned a new language I silenced another, my mother's tongue"
We heard stories that connected to the Edge, exploring it in different ways. The narratives included: using language that was unfamiliar; an asylum seeker sent to St Lawrences in Bodmin; a young black woman living in Cornwall during the Black Lives Matter movemen; a transgender woman; a climate change protester on being arrested; being alone along in Lockdown. Each of these moving stories were accompanied by a performer moving in the landscape, subtly illustrating it through action or stillness.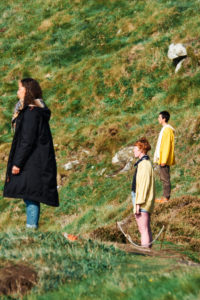 "They would have locked her in the attic but there are no attics in Cornish cottages"
Each of the stories resonated differently, and it was the story (performed by Rebecca Hulbert) of a mother whose son underwent heart surgery at three months old that impacted on me the most. Her narrative turned from brave distress to the joy her son brings her and his bright personality.
Throughout the performance songs by Lucy Birbeck, Vicky Abbott, Julie Macara and Seamas Carey wove throughout the stories. The songs were often haunting, with one piece a painful cry through an unfamiliar language. The voices and sounds echoed and overlapped tying the different narratives together.
Sitting in my house with the performance coming through headphones brought an feeling of closeness and interiority. I hope that Wildworks have the chance to run it in person so we can experience the sounds, elements and landscape together.
If you missed out on the live stream then to follow Wildworks for further information.
Credits
Performance
Sue Hill
‍Mary Woodvine
‍Rebecca Hulbert
Iga Webb
Ammar Haj Ahmad‍
Songs
Lucy Birbeck
Vicky Abbott
Julie Macara & Seamas Carey
Choir
Tuesday Night Fun Club
Creative
Mydd Pharo – Director
‍Mercedes Kemp – Writer
Sue Hill Landscape – Artist
Charlie Bunker – Creative Producer
Emma Hogg – Executive Director
Ellie Williams – Designer
‍Victoria Abbott – Music Director
Ciaran Clarke – Sound Design
Josh Pharo – Video Design
Images: Ian Kingsnorth for Wildworks
---
Wildworks
Wildworks makes theatrical, site-specific experiences and artworks all over the globe. From beaches, clifftops and woodlands to car parks and disused quarries. From derelict department stores to medinas, from refugee camps to castles. We invite the people who inhabit those spaces to join us on physical and emotional journeys telling everyday human stories through sites that are both familiar and re-imagined; where horizons are widened, boundaries are hurdled, conversations are started, people are celebrated, and memories are made.