Article
Wine Tasting at The Alverton Hotel
Last Friday, we headed to the beautiful Alverton Hotel for their wine tasting event.
Nestled away from the Cornish capital of Truro, The Alverton is an ex-convent turned four silver star hotel. As we arrived, we walked through the Alverton's extensive rolling lawns, framed by a variety of plants, trees and flowers and the breath-taking nineteenth-century architecture. We were welcomed into the Grand Hall, a decadent large space with stained glass features, warm fairy lights hanging and framing the magical architecture of the room; enriched in history and beauty.
Throughout the evening, we were led through the wonderful world of wine by The Alverton's drinks maestro Yohann. He presented us with a variety of wines from all over the world. Of the six glasses of wine we sampled throughout the evening, some were familiar and others unique, that I and many others have never tried. My personal favourite was the sparkling red wine! With each glass, we tasted the thoughtfully chosen menu of red, white, rosé and more, whilst listening to the extremely well informed and knowledgeable Yohann, discuss the different characteristics and origin of each wine.
There were delicious sharing boards on the table for us to enjoy, satisfy our tastebuds and complement each wine and its unique notes. With a range of sweet and savoury flavours, each bite affected the taste of the different wines. We sat at circular tables, alongside other guests, which created a friendly, conversational atmosphere where we would share and compare our thoughts on each wine.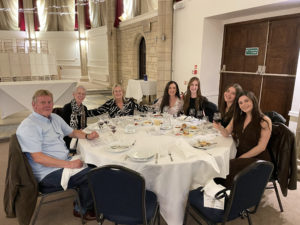 I came to the wine tasting event, having little to no knowledge about wine, and left feeling confident and enthused to find out more about the world of wines.
From their Summer Garden Sessions and comedy shows, to themed balls, theatre and gin festivals, click here to discover all of the amazing events going on at the hotel on the hill.
---
THE ALVERTON HOTEL
Facebook | Twitter | Instagram