Article
Artist Profile: Charlie Bowdery
Q&A with Cornwall artist Charlie Bowdery about his new album 'Clockwork'.

Fusing elements of Trap, Rap, Hip Hop, Grime always with an Urban Pop oriented hooky and unforgettable chorus, Charlie has created his own unique sound. Whilst tipping his hat to those who influence him, Charlie undeniably brings something new to the party. Immediate groove based upbeat melodies, with lyrics telling stories of everyday life as a young man dealing with the trials and tribulations of love, friendships, anxiety, aspirations and life.
An experienced live performer, Charlie has gigged extensively in Bristol, London and is a favourite in the South West music and festival circuit. Having performed live at Boardmasters, Leopalooza, The Great Estate Festivals, and supports for James Arthur, Jess Glynne, Meadowlark, Hein Cooper and most recently playing the main stage at Nass Festival.
We caught up with Charlie to find out more about his music and plans for the future.
---
Please tell us about yourself and your music:
My name is Charlie Bowdery, I'm a 22 year old musician from Cornwall and I have just released a new project called "Clockwork" which has a unique blend of Hip Hop, Trap and RnB.
 Tell us about your experience living and being a musician in Cornwall
I have lived in Cornwall all my life, but I didn't like it growing up, as there was just hardly ever anything to do, but as I got older I really started to appreciate how beautiful it is, and I'm super lucky to live here!! I love having the beaches so close, can easily go for a surf or take my dog for a walk on the beach and get out of the house!
For me, a lot of the time I find it quite hard being a musician in Cornwall, because I feel like the target audience for my music is more city based, as we have a very big indie/rock scene down here, but not necessarily for my genre.
What has been your favourite performance in Cornwall to date?
My favourite performance is definitely supporting James Arthur at Bands in the Sands! I had such a great response from the crowd and it's my biggest audience to date. So hopefully many more good shows to come!!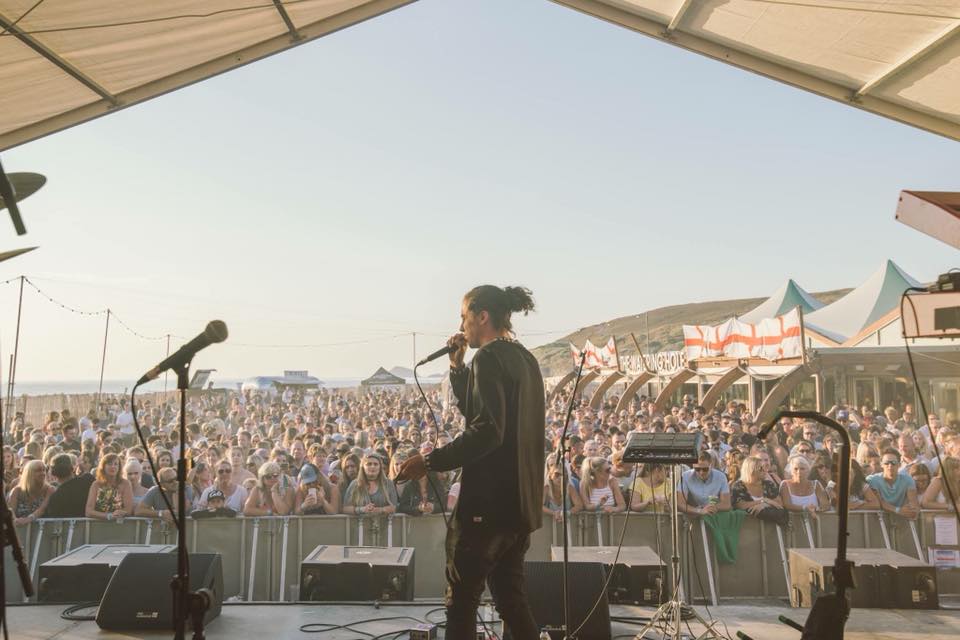 How did you find your passion for music and develop your unique style of hip hop, grime, R&B and electronic pop?
I have always been a huge fan of Hip Hop from an early age, and it has been my favourite genre of music since I was a teenager! I just wanted to try and separate myself and be unique, so I started to try and write more melodically and infuse it with trap/Hip Hop beats!
Who has inspired you as an artist?
I have been hugely inspired by so many different artists and genres, from old school hiphop, such as Biggie, NWA, Snoop etc all the way to bands like Sublime, who are one of my all time favourite bands, I love the vibes and lyrics!!
What were the influences behind your album clockwork?
I wanted to express my feelings and talk about the trials and tribulations of an independent artist trying to make it in this industry, alongside going through the highs and lows in life, such as friendships and relationships both personal and observational.
Having done a lot of gigging and performing at festivals across the South West, what is your next big goal as an artist?
My next goal as an artist is to get out on a tour, and play as many shows as possible, because my live set brings the songs to life even more. I am also super excited to get some new music out!!
To find out more about Charlie's music visit his website and social channels below:
---