Article
Celebrate the power of women at Mayven Festival's circus and cabaret extravaganza this November.
Renowned feminist theatre company Scary Little Girls has announced the full programme for their flagship festival, Mayven Festival Cornwall and tickets are now on sale.
Taking place across various venues in Cornwall from November 20-26, 2023, this circus and cabaret extravaganza promises to honor and uplift women through a diverse program of exciting events.
Working with female artists and performers and championing the work of female writers, directors and producers, the Mayven festival is a spectacular celebration of the power of women in midlife and looks set to provide an exhilarating feast for the senses this winter.
From living literature walks to cabaret performances, from acrobatic displays to a celebration of Allantide, the Scary Little Girls team will tell important stories in their own inimitable way.
Join the Festival this November and become a part of the celebration of the power and strength of women – with an exciting circus theme for the 2023 festival.
Rebecca Mordan, artistic director of Scary Little Girls, said: "The Mayven is a sometimes-overlooked stage in a woman's life. She comes after Maiden and Mother and is described by some as containing 'the inherent value and power of midlife'. The Mayven is something a woman can ascend into after turning 40 and reside in for as long as she wants until she decides to Crone.
"The Mayven combines a worldly knowledge, wisdom and expertise with an energy and vibrance that make her magnetic, sexy and powerful. Both powerful and authentic, a Mayven knows her worth and who she is and isn't afraid to show it and receive respect."
Rebecca continues: "Cornwall is our home and the birthplace of the Mayven Festival. It's a celebration of the power of women, and part of our ethos has always been to provide a platform for female creators and performers and their art."
Discover some of the festival highlights here!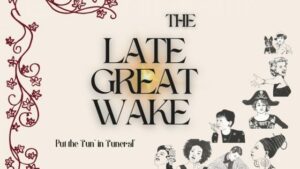 The Great Late Wake
Monday 20 November, 7.30pm – 9.30pm, Princess Pavilions, Falmouth
*INVITE ONLY*
Join Rebecca Mordan and Anna Mansell of the BBC Writers Room for this live-recorded podcast as they pay tribute to Virginia Woolf, Frida Kahlo, Nina Simone or Tove Janssen – as voted on by you! Enjoy a lively eulogy to the heroine of our audiences' choice and stay on for a wake that puts the 'fun' into 'funeral'! All enjoyed along with a signature cocktail dedicated to the deceased doyenne.
Witch Storytelling
Wednesday 22 November, 7.30pm – 9pm, Witches in the Wilderness, Tintagel
As we enter the season of mists and mystics, discover the Cornish traditions of Halloween known as Allantide and explore the hidden histories of ghosts, witches and vengeance-seeking white hares.
Art of the MC
Thursday 23 November, 12.30pm, Princess Pavillions, Falmouth
Come along to a workshop exploring the art of the MC with seasoned comperes, Rebecca Mordan (20 years holding the Big Top acts and audiences at Glastonbury Festival) and Annabelle Holland (the only female knife thrower in the UK and MC in Glastonbury's Big Top this year) and find out how to keep audiences large and small enthralled.
Knife Throwing Workshop
Thursday 23 November, 10.30am, Princess Pavilions, Falmouth
Ring mistress and compere Annabelle Holland is the only female knife thrower in the UK. Likened to Joan Simms from Carry on fame Annabelle is warm-hearted, cheeky and dagger-sharp with her wit. Find out whether you're cut out for the skill of knife throwing.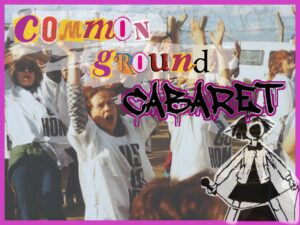 The Great Greenham Cabaret
Thursday 23 November, 7.30pm – 10pm, The Poly, Falmouth
Join us for a cabaret night at The Poly filled with song, stories, solidarity and sisterhood. Combining comedy, verbatim theatre, circus and music, Scary Little Girls and Greenham Women Everywhere celebrate the audacity, the irreverence, the daring of the Greenham Common Women's Peace Camp.
Discover the stories of the women who were at Greenham Common. See some feats of acrobatics and balance as our troupe show the techniques used to climb over the fence and break into the base. We're celebrating the creativity, passion and wit used in the art of peaceful protest.
Make a radical postcard with Caroline Wilkins from Redruth Press, join us for rousing performances of protest songs and celebrate the stories of these powerful women who worked together for the common good.
Best of the Fest – A night of Circus and Cabaret with artists from this year's Glastonbury Festival
Friday 24 November, 7.30pm – 10pm, Mount Pleasant Eco Park, Porthtowan
Scary Little Girls are bringing you an evening featuring some of the best acts to grace the stages of the circus fields at this year's Glastonbury Festival.
Expect comedy, knife-throwing, ariel, music and high-jinks as Glastonbury Big Top compares Rebecca Mordan and Annabelle Holland regale you with a combo of their personal favourite acts that smashed it at Glasto and exciting new talent from across Cornwall.
Bodmin Storytelling Walk
Saturday 25 November, 3pm – 5pm, Starting at Mad Hatters Tea Rooms
Scary Little Girls bring you one of their signature Storytelling Walks – celebrating the hidden myth and magic of Bodmin. Join us a guided walk of treats and tales starting at Mad Hatter's Tea Rooms and ending at the Old Ambulance Hall.
Discover the town anew in an exploration of stories, songs and plays by some of Cornwall's favourite artists and from the best in the regions new and emerging talent.
The Big Bodmin Cabaret
Saturday 25 November, 7.30pm, Old Ambulance Hall, Bodmin
As the closing event for this year's Mayven festival, Scaries bring elements from across the festival together for a riotous night of special guests, wicked wits, sultry songstresses and cabaret mayhem.
Game On
Sunday 26 November, 7.30pm – 9.30pm, Newquay Orchard
This show brings you the best of modern cabaret comedy and a traditional pub quiz. Join Quiz Mistress and Pub Landlady Pat Pinch as she takes over your local with live music, prizes, audience participation and, of course, a few drinks.
Find full details of the Mayven Festival Cornwall on the Scary Little Girls website – book your tickets today!
---
ABOUT SCARY LITTLE GIRLS
Scary Little Girls is a feminist production hub with a passion for stories that are historically or culturally excluded, or usually told from one perspective only. We actively create jobs for women, cross-collaborating and skills sharing for the benefit of the artistic and wider community and are committed to the creative case for diversity.
SLG employs around 100 artists annually, reaches live audiences of 25,000, creating both indoor and outside work and collaborating and touring with artistic partners, commissioners, pubs, libraries, town councils, and venues from Penzance to John O Groats. The diversity of our projects is unified by our overriding belief in the power of stories to change society, our love for our audiences and our dedication to improving human and women's experiences.
This gives us a unique, wide reach, despite being a small organisation, and a devoted, growing audience who demand that we keep innovating and risk-taking.
Facebook | Instagram | Twitter (X)