Article
David Ford on tour at the Old Bakery Studios
Last Saturday, Community Reporter Fi Read, saw award-winning singer-songwriter David Ford, as he performed to an enthralled audience at one of Cornwall's best live music venues: The OId Bakery Studios. Read on to hear Fi's thoughts!
Promoting his sixth studio album, May You Live In Interesting Times, David is known for his sharp, incisive lyrics and compelling live performances.
Part of a 16 date UK-wide tour, with support from Annie Dressner, the Old Bakery Studios proved an ideal setting for grassroots songs inspired by life on the edge, and a conviction to follow one's own path.
An independent and innovative riverside creative hub, the Old Bakery Studios has revitalised Truro's historic Blewett's Wharf. More than 50 unique studios and workspaces, see small businesses rubbing shoulders with artists and entrepreneurs. There's also a great café and a cracking little venue.
Our first time here, it felt like we'd stepped into a bunker, thanks to the rough plastered walls, concrete floors and industrial décor. Chipped peeling paint, exposed pipes and wires, plus random signs and safety notices are offset by modern LED strip lighting, and fancy bulbs dangling above the stage. Despite the warehouse chic and minimal heating, the atmosphere is cosy and welcoming.
Tickets are checked at the bar as you go in. A small but tempting selection of drinks and snacks saw us both order pints of Shed Head American Pale Ale before making our way over to the table-seating area. Intrigued by the set-up on stage: mini upright piano, acoustic and electric guitars, small drum kit, bongos, percussion, an assortment of foot pedals, 1940s style vocal mic – a gold-painted fake speaker on a tripod and lush potted palm, completed the authentic lounge look. With half an hour to go before the show started, we settled in to enjoy the ambience.
Hailing all the way from New York City and Cambridge, David warmly introduced support act Annie to the stage, but not before sharing how they accidentally drove to the wrong town for their previous gig. Thankfully, their journey to Truro proved uneventful, and he raved about their pub lunch. Annie's second time in Cornwall, she spent her honeymoon in St Ives. Forced to call out maintenance after putting bubbles in the spa bath, her coy confession set the relaxed tone for the evening.
Annie's punchy strummed opening song was followed by the hauntingly mellow finger-picked, Strangers Who Knew Each Other's Names. Joined by David on piano and vocal harmony for it, there's a vulnerability to her voice, while her American twang and clipped lyrics reminded me of Suzanne Vega. Described as a 'folk poet', her songs were predominantly stories about love and loss, rooted in the personal, universally experienced. Annie's third studio album, Coffee At The Corner Bar, was available to buy on the merchandise stall. Plus a free tote bag, you can't say fairer than that.
After a short break, David opened his set with just electric guitar. Simple yet powerful, the 'Maybe I lost my direction, but I'm alright now', chorus line had a brutally raw bitterness. Switching to one-man-band mode for his next song, using multiple looping pedals, he began by layering the shaker, tambourine, bongos and piano. Incredibly clever, slick transitions were essential for the timings. By the end, a richly textured sound wall, belied the reality of a solo musician having created such a funky phat track. A brave young couple couldn't resist dancing upfront.
Drinking ginger tea, David took us down memory lane and into O'Sullivans, an Irish pub in his home town of Eastbourne, where he'd propped up the bar in his youth. With a wicked jukebox and excellent Guinness, this moving piano song narrated an alternative possibility, if the pub hadn't closed and he'd stayed there drinking every day. The bell tolling last orders, it had Billy Joel all over it.
What I liked most about David's music, was the range of influences and genres incorporated into his songwriting. Hints of Crowded House, Billy Bragg, Tarantino-esque Americana, Stereophonics, U2. His versatility featured strongly in his themes as well, as he flipped from relationships to philosophical musings about the state of the world, even the UK's Covid-19 vaccination programme. Believing he'd blazed a trail after recording '2 Shots of Astra Zeneca', it's probably the first-ever love song to a pharmaceutical company. 'Deploy the soldiers in my blood, the needle I can pin my hopes on…' he sang. Unsure if he was serious or tongue-in-cheek, David went on to explain how vaccines had enabled him to return to what he does best, performing live, and also how Lockdown gave him the time and space to produce two new albums. One, in collaboration with Annie, was written, recorded, mixed, mastered and pressed in only a month and on sale on the night as well.
Finishing with his anthemic State of the Union (a popular choice) David's most overtly political song screamed with anger and passion. Frantic looping and over-looping, each beat taken up with a cacophony of dystopian sound, built to a rabid dog frothing-at-the-mouth crescendo mash-up ending. Fans yelled out for more, but no, how could you follow that? It's a wrap.
David and Annie's only tour date in the whole of the South West, Old Bakery Studios did well to entice them this far down. But don't despair, there are lots more top quality live music acts playing here soon, including Blair Dunlop (April 1st) The Marley Experience (April 2nd) Cut Capers (April 16th) and an extra special event, The Big Truro Ukraine Fundraiser on Wednesday, April 6th. You can view all upcoming events coming to Old Baker Studios, here!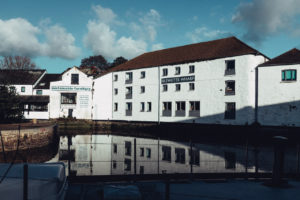 ---
ABOUT OLD BAKERY STUDIOS
Old Bakery Studios is a historic former bakery in Truro; with over 50 unique studios, workspaces and a large raw ground floor serving as an exciting event space. Old Bakery Studios is a dynamic space that hosts a variety of events; bringing a boost of music and comedy to Truro!