Article
The Comedy Network: Jake Baker & Burt Williamson bring World-Class Laughs to AMATA Falmouth
Last Wednesday, Community Reporter Pip Harding headed to AMATA, Falmouth University's esteemed theatre and arts venue, for their monthly Comedy Network night. This month saw West Country favourite Tom Glover host Bristol Comedy Den MC Burt Williamson and Edinburgh Fringe favourite Jake Baker.
Greeted with a Playful Atmosphere
Upon entering the venue, we were greeted with a warm smile. It took just a short walk down the corridor for us to arrive at The Comedy Network's venue. Walking into the room, we appreciated the 00s pop classics pumping through the speakers and mood lighting, both contributing to the playful atmosphere. We headed to the bar to grab a (very reasonably priced) glass of red wine and sat down in one of the rows of soft seats. There were options to gather around tables, too, for those in larger groups.
Host Tom Glover opened up the evening by noting that it was quieter than usual as most students were studying for their exams. This induced a giggle from the group (of students) at the front, who Tom lovingly teased, noting that they must be feeling very confident to be missing study time, and shouldn't we all be concerned?!
Poking light-hearted fun
As all good comedians do, Tom continued poking some light-hearted fun at various members of the audience, (some of whom were regulars), much to everyone's glee. We found out that we were all local to the area, but diverse in age. Tom was a fantastic host, smoothly breaking the ice, and leaving us feeling like we were amongst friends.
Broadly relatable
Burt Williamson was the first guest to perform. From the moment he graced the stage, it was clear that he was a world-class comedian. He had us throwing our heads back howling within seconds. From the salad veg shortage crisis to new-found visual delights following laser eye surgery, Burt kept things topical, satirical, and broadly relatable. So much so that he coaxed us all into raucous laughter, punch after punch line. In his words, he toyed with our "liberal guilt via accessible means", and we loved it.
We could have happily listened to Burt for the rest of the evening, but as he headed off the stage, Tom Glover reminded us of what was to come. Tom carried the interval with grace, connecting the audience with one another and threading one performance to the next effortlessly. We had a twenty-minute break to grab another drink before Tom was back to introduce us to Jake Baker.
The quick wit of a seasoned professional
Jake bounced up onto the stage, armed with a cheeky smile and more than a few silly stories in his pocket. It was immediately obvious why he had been thrice nominated for the BBC Comedy Award. His playful persona, paired with the quick wit of a seasoned professional, kept us cackling. From trips to his local kebab shop to the hilarity of what a randomly selected team GB Olympic team would look like, Jake kept us on our toes. He was animated, down to earth, and easily lovable. He reminded us of the class joker in school who everyone would look to for the best jokes.
Professional, charming and totally hilarious
If you're looking for a sign to attend a stand-up gig, this is it. In an age of distraction, comedy nights call for and encourage your full presence and attention. The Comedy Network was easily one of the best stand-up nights that I've attended in years. It was professional, it was charming, and most importantly: it was totally hilarious.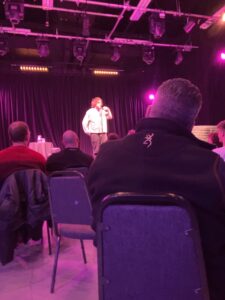 And when it's all over, you will walk out of the door having spent hours chuckling away, feeling notably lighter than when you arrived.
The Comedy Network is a monthly comedy night at AMATA. You can buy tickets on their website https://www.amata.org.uk/
---
ABOUT AMATA
AMATA is a professional venue that hosts a year-round performance programme attracting top artists and performers from all over the world. Recent seasons have seen sell-out shows from leading companies such as Shobana Jeyasingh Dance, Wardrobe Ensemble, Belarus Free Theatre, Forced Entertainment and many more!
Facebook | Twitter | Instagram