Article
Treasure Island – Set sail with the Hall for Cornwall this December for a m-arrrrr-vellous maritime adventure.
Join Jim Lad, his pet Chough, and a host of despicable Pirates on a Christmas quest to find the buried treasure.
What better way to kick off the festive season than with a trip to the pantomime. We loved last year's Cinderella, so we were thrilled to attend the opening night of the Hall for Cornwall's latest adventure, Treasure Island.
The show centres around our hero Jim Hawkins (Ned Cooper) as he tries to save his pub, The Admiral Benbow, from financial ruin. After receiving a treasure map Jim assembles a motley crew to navigate the seven seas and discover the gold. But Long John Silver has other ideas and tricks Jim into letting Silver and his band of buccaneers onto the ship (via an X Factor style audition process). Of course there are high-jinks on the high-seas and our characters find themselves scattered across a desert island.
Ed Rowe (Kernow King) as Long John Silver is joined by a fabulous cast including plenty of pirates (Joni Ayton-Kent, Tamisa Chivandire, Chloe Endean, and Aidan Nightingale), an impoverished aristocrat (Pete Ashmore), and a Doctor (Ellie Leah). Mia Jerome stars as Gladys Hawkins bringing wonderful warmth and a dazzling array of costume to the stage. Two of our favourite characters were Captain Flint, a sassy parrot played by Zahra Ahmadi, and Ricky Oakley as the loveable Chuffy.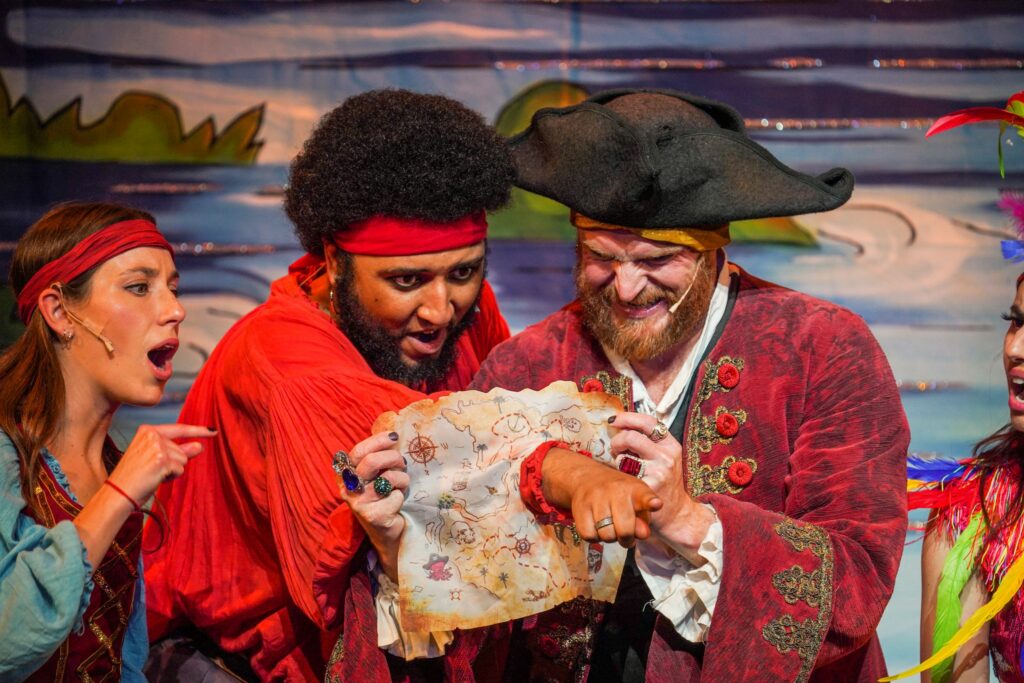 Treasure Island is packed full of panto moments, from the iconic "he's behind you" to a hilarious scene involving sausage making. The audience are encouraged to be part of the show at every turn, with Gladys Hawkins even giving marshmallows to the noisiest audience members.
The soundtrack from Musical Director Richard Healey is full of toe-tapping hits including Dua Lipa, an excellent mashup of Beyonce and Nirvana (we promise it works!) and a brilliant end of Act 1 number involving Ed Rowe waving the biggest Cornish flag you've ever seen. The brightly coloured costumes and set provide visual excitement, not letting up the fun for a second.
Treasure Island is a brilliantly Cornish production. Kernewek speaking Pirates, splashes of tartan, and a Cornish sing-a-long, create a swashbuckling show that truly belongs in the beautiful Playhouse auditorium.
Treasure Island runs 1 – 31 December
at the Hall for Cornwall
---
The Hall for Cornwall
Hall for Cornwall are here for Cornwall's audiences to discover all that the arts can be. From 'I've never seen anything like it,' to 'I've had the time of my life,' to 'I feel a little bit braver now,' they always innovate, entertain, excite and connect, across our diverse music, theatre, community, dance and digital platforms.