Article
WildWorks return to the Lost Gardens of Heligan for 100: UnEarth
Four years ago, 5,000 people watched one of the most emotional scenes ever performed in Cornwall as soldiers disappeared silently into the sunset among the gentle sway of poppies at the Lost Gardens of Heligan.
It was the final scene in an extraordinary production, 100: The Day Our World Changed, by the country's leading landscape theatre company WildWorks, marking the centenary of the outbreak of the First World War.
Now, four years later, the centenary comes full circle with a new production marking the end of the war, starting where that poignant scene ended, on the West Lawn at Heligan. WildWorks returns to the Lost Gardens to discover what happened to its Lost Gardeners after those fateful moments in 100: UnEarth.
The promenade performance has been commissioned by Heligan and 14-18NOW, the UK's arts programme for the First World War centenary and takes inspiration from a previous WildWorks classic, Souterrain, a visionary work instigated by the company's much-loved artistic director Bill Mitchell, who died last year.
Executive director Emma Hogg said: "It was always our intention to go back and 'end the war'. 100: The Day Our World Changed was about the beginning of war; the innocence of not knowing what they were walking into. 100: UnEarth looks at what happens when war is over."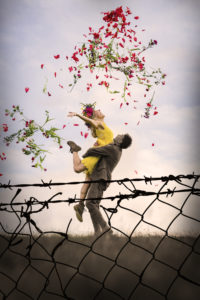 The WildWorks team are interested in the aftermath of war; when people had to move on with their lives, whether that is a woman bringing up children on her own or a soldier attempting to return to normal life.
That fed into Bill's interest in revisiting the tale of Orpheus, which the company had previously featured for the stunning Souterrain. There are strands of that story in 100: UnEarth, which will be staged at Heligan from July 3 to 22, though they are keen to stress this is no restaging of the production which wowed audiences in France and Britain, including in the barren landscape of Camborne's Dolcoath Mine.
Shortly after Orpheus returns home from the war and is reunited with his love Eurydice, a tragedy occurs and Eurydice is killed. Vowing to find her and bring her home, he travels to the underworld with his band of soldiers. The audience will go along with them … if they are willing to.
This emotive journey will take the audience to a lot of different stages within the fields, woodland, lawns and walled gardens of Heligan with fantastic installations and set pieces.
Tickets are £24 with concessions. Book at www.hallforcornwall.co.uk or call 01872 262466. 
Images: Wildworks / Steve Tanner