Article
The North Cornwall Book Festival: Turns 10!
The North Cornwall Book Festival is celebrating its 10th anniversary this September 21-24, get ready for a real 'page-turner' of a festival!
Curated by internationally bestselling author Patrick Gale, this annual festival brings together an impressive lineup of authors, musicians, workshops and more against the stunning backdrop of St Endellion. Our team at Cornwall 365 visited the festival back in 2019 and found it to be a true gem; you can read the review online here! With this year marking its 10th anniversary, the festival promises to be better than ever.
The festival's jam-packed schedule covers everything from A to Z for book lovers. Get ready for talks by some of the biggest names in literature, including crime writing legend Ann Cleeves and popular historian Tom Holland, who will give the inside scoop on their latest page-turners. Acclaimed novelists like Natalie Haynes and Max Porter will also share wise words and witty insights into the creative process, letting audiences peek behind the curtain of crafting captivating narratives.
Bibliophiles will find no shortage of engaging events; the festival's literary table of contents has something for every reader, providing the perfect escape for book enthusiasts to dive into new worlds and emerging voices.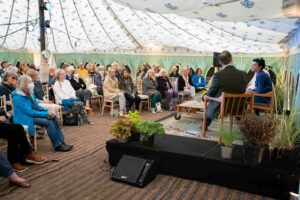 A highlight on Saturday is the "Cream of Cornish" cabaret featuring readings by local writers with ties to the reigion. Don't miss debut novelist Eleanor Shearer reading from her new book River Sing Me Home about slavery and its inheritors, bestselling romance author Anna Mansell sharing her latest, doctor-turned-writer Ike Anya reading from his memoir Small by Small, and poet Sarah Cave presenting poems from her new collection The Book of Yona. This lineup of Cornish talent is sure to offer vivid stories and verse rooted right here in this storied region.
Beyond the author events, attendees can enjoy a range of other activities. Sing along to folk legend Charlie Dore's emotive songwriting, tap your toes to the jazz stylings of Helen Porter and James Budden, or experience the lyrical power of poet Luke Wright's live show. Aspiring creatives can learn foraging tips from Emma Gunn, explore writing diverse characters with Tomiwa Owolade, or join Luke Wright's poetry workshop. The festival also offers one-on-one mentor sessions with publishing professionals.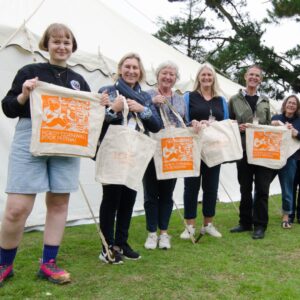 An integral part of the festival is its youth programming. Thanks to organizers Endelienta Arts, over 300 local students will participate in workshops and reading activities. Endelienta Arts also provides year-round creative workshops for 800+ primary school children across North Cornwall. As festival director Patrick Gale emphasised, "The opportunities that the festival gives us to support creative and inspirational events for children and young people are increasingly important."
So, if you're looking for a celebration of books, music, and creativity framed by Cornwall's rugged coastline, don't miss the 10th North Cornwall Book Festival, buy your tickets now! https://ncornbookfest.org/.
Here's to the next 10 years!
---
NORTH CORNWALL BOOK FESTIVAL
Facebook | Instagram | Twitter